Debate team finishes season strong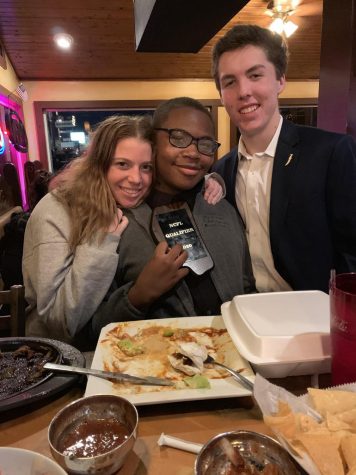 The first speech and debate tournament of the Spring Semester was the 2020 Hub City Speech & Debate Classic at Hattiesburg High School. The tournament ran the weekend of January 31 through February 1.  Freshman Edward Wilson, Junior Kayleigh Canoy, and Team Captain Isabella Scalia were all selected for the Finals session in Congressional Debate, and the judges chose Prep Team Captain Isabella Scalia as one of the top six delegates.  
The next weekend, the Speech & Debate team participated in the JCFL Speech & Debate Qualifying Tournament at Starkville High School.  Two members of Jackson Prep's team earned slots for the 2020 National Catholic Forensic League ("NCFL") Grand Championships in Chicago this coming May. Freshman Edward Wilson qualified in Lincoln-Douglas Debate; Junior Isabella Scalia qualified in Congressional Debate.  In addition, Freshman Peter Downing made semi-finals in Oral Interpretation of Literature (poetry and prose performance), just missing a qualifier slot. 
February 21-22, the team competed at the 2020 Southern Miss Speech & Debate tournament.  Edward Wilson and Isabella Scalia were selected for the Finals of Congressional Debate, with Scalia elected by her peers to serve as Presiding Officer for both the second preliminary session and the final "super session." She finished 8th overall in Congressional Debate, and Wilson finished 6th. In addition, Scalia made finals in Impromptu Speaking, finishing 5th overall. 
At the Cowbell Classic tournament at Mississippi State on March 6-7, Freshman Robert "TJ" Thomas made semifinals in Impromptu Speaking and Freshman Edward Wilson earned a semifinal slot in Poetry Interpretation. Wilson also finished 4th overall in Congressional debate.
With the Mississippi State tournament, the team's regular season concluded. Twenty different students earned over 1500 national Speech & Debate points in 2019-20, and garnered 23 ranking degrees ranging from "Merit" through "Distinction." 
As mentioned above, two team members earned slots for the NCFL Grand National tournament scheduled for Memorial Day weekend in Chicago. Team Captain Isabella Scalia would have competed in Congressional Debate, and first year debater Freshman Edward Wilson would have competed in Lincoln-Douglas Debate.  Unfortunately, due to COVID-19 concerns, NCFL Speech & Debate Grand Nationals have been canceled.   
Reviewing the team's year, Coach Richard Younce said that he would particularly like to thank Prep parents and faculty who chaperoned and judged at tournaments this year.