ALBUM REVIEW: The Darkness Behind The Weeknd's "After Hours"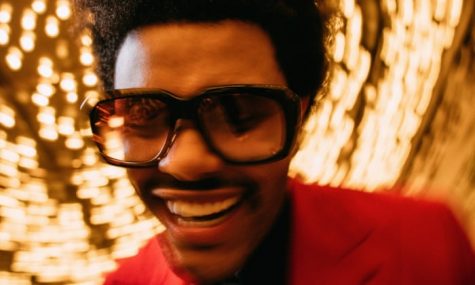 Even during times like these, musicians have continued to work, surprisingly, some more than usual. In particular, one artist to highlight released an album on March 20th. This album, After Hours, has since received mass acclaim from fans and critics alike, so much so that it has since boosted this artist to the number one artist on Spotify. If you hadn't guessed yet, the artist is the one and only Abel Tesfaye, professionally known as "The Weeknd," one of the biggest names in R&B right now. 
It all started in 2011 when his first mixtape House of Balloons was released. Toronto born Abel Tesfaye was unknown to the world until a new sound began circulating music forums everywhere. From artist cosigns of the likes of Drake, to highly positive reviews surfacing on sites like Pitchfork, RollingStone, and Metacritic, it was evident that it was only the beginning for Tesfaye. 
From these humble beginnings comes Abel's newest album, After Hours, his most compelling and successful blend of new wave, dream pop, and R&B that most have come to associate with his name. It is his first official album in four years, with the last being his hit album Starboy that included the charting singles "Starboy", "Reminder", and "I Feel It Coming".
Anticipation began building when several Reddit users and music outlets online began posting about a "Chapter 6 reveal" during one of The Weeknd's shows in late 2018. During his set at the launch of HXOUSE, a Toronto creative incubatory founded by XO creative director La Mar Taylor, The Weeknd revealed the title of the album he was currently working on and teased that it would be "coming soon." Eventually, the album rollout began in late November of 2019 when he posted on Twitter and Instagram, "Tonight we start a new brain-melting psychotic chapter! Let's go!" From there, he released two singles, "Heartless" and "Blinding Lights" over the next couple of days. The last single, the title track, "After Hours" was released about a month before the album's release. Finally, on March 20th, After Hours was officially released. It was met with nearly immediate praise, and for most, the hype was met. A couple of days went by, and a deluxe edition of the album was released with 3 bonus songs, all of which had been teased by Abel on social media already. Finally, an EP was released with remixes and live performances of songs from the album, concluding this chapter of The Weeknd's career. 
After letting the release settle in for a few weeks, I would say the same excitement comes from listening to it for the 10th time as the first time. The 808s hit just as hard, and The Weeknd's voice sounds just as smooth. I've listened to most of his releases all the way through beforehand, and I would say this is his most cohesive and focused album yet. If you haven't listened to his compilation of mixtapes, Trilogy, I would highly recommend. You will hear why I believe After Hours is up there next to Trilogy in terms of quality and originality.
Abel excels in creating a mix of disco, synth, and 80s sounds on this album to accompany a narrative that focuses on love, pain, and the overall responsibility of dealing with a relationship. It is The Weeknd at his most vulnerable. If you've already heard "Blinding Lights" in commercials and on the radio a multitude of times, I highly recommend you to listen to the rest of this album. It has something for everyone and any type of mood. I give it an 8.5-9/10. 
Some of my favorites songs are: 
"Snowchild"  

"After Hours"  

"Alone Again"  

"Hardest To Love" 

"Too Late" 

"Faith" 

"Escape From LA" 

"Scared To Live"  

"In Your Eyes"  

"Save Your Tears"