Cases continue to rise as the state begins to reopen (COVID-19 Mississippi/Jackson update 5/4/20)
Up to date as of May 4, 2020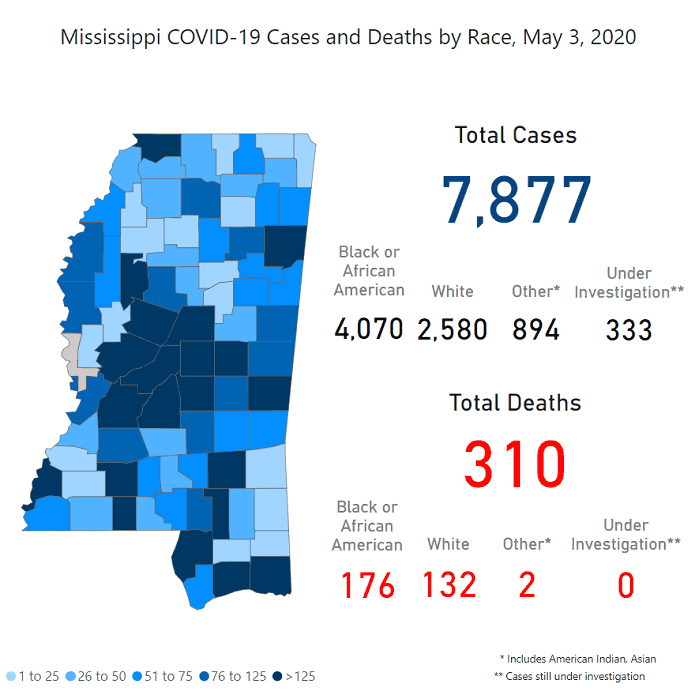 The number of COVID-19 cases and deaths has continued to increase. As of May 4, Mississippi has 7,877 cases and 310 deaths.
The statewide shelter in place ended Monday the 27th and was replaced by a Safer at Home Order. This order will remain in effect until May 11. It shares many aspects of the shelter in place order. The order encourages people to stay at home unless they need to engage in essential activities. Social distancing is a must, and any nonessential activities must be limited to no more than 10 people. More businesses can reopen, but they must follow strict social distancing guidelines. Further plans to gradually reopen the state have been postponed due to a recent surge in cases and deaths.
Jackson Mayor Chokwe Lumumba extended the citywide Stay at Home order from May 1 until May 15. This order permits only essential work and travel.
COVID-19 tests are still being given around Mississippi, with 1 day clinics being set up in several places each week. Due to fewer people in need of testing, tests are now permitted for those that think they may have been exposed or only have 1 of the symptoms. Testing people, even those without symptoms, is important for monitoring the situation. Dr. Thomas Dobbs of MDSH said in April 27's press conference that more people need to wear masks, and he is thankful for those who are because they are protecting themselves and their families.