A Season in Review: Boys' Soccer
This story is part of a series detailing seasons that ended before the COVID-19 pandemic.
This year's varsity boys' soccer team had an incredible season, and they were able to finish it off with a state championship game that went into overtime against the JA Raiders. The Patriots won that game 2-0, with the goals being scored by senior Blake Painter and senior Preston Oden. 
The soccer team's season started off against St. Andrews, with a 2-1 victory. This game occurred in November and began the boys' season off strong as they moved forward in the regular season. Later on in the season, the team went undefeated in the Prep tournament. They were able to shut out Hartfield, Washington, and Heritage.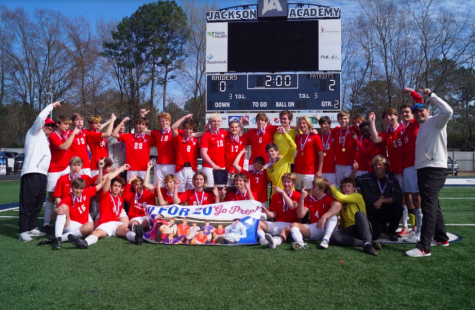 At the end of the year, the banquet was held virtually. This is how the end-of-the-year awards were announced. The Impact Award went to Senior Blake Painter, the Patriot Award went to Blake Painter, the Offensive Award went to Dylan Harrigil, the Defensive Award went to JC Polk, and the MVP Award went to Sam Drennan. 
The entire group of seniors were able to lead this year's team to victory, whether it was from conditioning during practice or pushing through the final moments of the championship game. This was especially important during the championship game since it went into a period of overtime with two ten minute halves. Both teams were exhausted, but the Patriots were able to push through and secure the two victory over the Raiders after one hundred minutes of playing time. 
This season ended with the team able to celebrate with their newly earned trophy and gold medals. The Patriots will look to continue this success in the upcoming season this fall as they seek to add another championship to the ten-peat.