Prep puts forth "new normal" plans
FROM ISSUE 1: Classes set to start August 11 under JP Revised plan.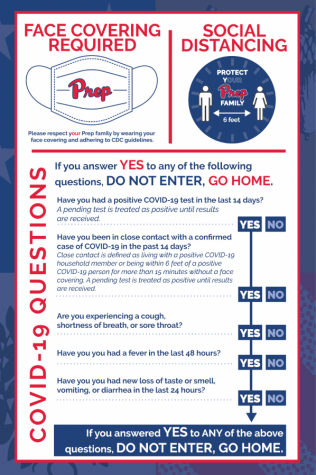 With a temporary "new normal" on the horizon, Jackson Prep has announced its plans for the 2020-2021 school year. Unlike some schools in the metro area, Prep is starting on time, and in-person. However, there is a virtual option for those who do not feel comfortable attending classes on campus. 
Over the summer, school leadership formulated four plans, three of those appropriate for the pandemic. The JP "Regular" plan is a normal school routine. In the absence of normal school to start the year, Prep will begin under the JP "Revised" plan. If the COVID situation worsens, school leaders may elect to move into the JP "Hybrid" plan, or the JP "Remote" plan. 
The Revised plan can best be described as normal school, but with restrictions. All individuals (including students, faculty, and visitors) must wear a face covering inside any building on campus. Students are also required to carry hand sanitizer during the day and use it before each class. Building access to students will be limited for times other than class, except for special circumstances, such as a teacher meeting. Classrooms will also be sanitized daily and desks will be cleaned before each class. 
Every family will be required to download the Ascend app, which will allow students admission to school after the parents answer several health questions. 
The schedule is also altered. Class still begins at 8:10, but the amount of time is shortened from 70 minutes to 60 minutes, in order to allow for more time "mask-less." Additionally, the school day ends at 2:50, rather than 3:10.
Prep HVAC units are now equipped with an air filtration device, called the Needle Point bipolar ionization equipment. This technology has shown that it can cut down on the spread of COVID-19 quite significantly, by a rate of 99.4 percent in 30 minutes. It discharges charged ions into the air, which binds to harmful contaminants. Not only does the device help to mitigate coronavirus, but also bacteria, mold spores, and other viruses. 
If current conditions suggest a need to switch to hybrid learning, Prep will move into the Hybrid plan. This will have around half of students attending at school and the other half attending at home, rotating during the week.
Athletics may still go on, as they would during the Revised plan.
Lastly, the Remote plan would work similarly to last year's fourth term. Google Meet and Zoom will be used during class, and athletics would suspended. 
Whatever happens in the ongoing pandemic, the highest priority for the school will be to continue to provide an oustanding education, safely.