"folklore" marks creative and stylistic growth for Taylor Swift

It seems that 2020 summer was flatlining due to COVID-19 cancelling plans, but Taylor Swift might have saved the season by dropping a new album. Swift's folklore album is different from her usual pop style and upbeat vibes, but  provides fans with a newborn version of her music.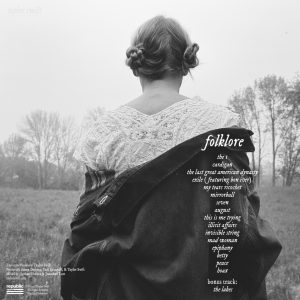 Swift started writing the album in April, so most of the songs were written in quarantine. In her Instagram post, Swift explained that writing music was her way of slipping away from isolation during quarantine and wanted to share it with her fans. 
What makes this album so personal was how secretive she was  about it. Swift didn't mention anything to her close friends that she was writing new music, so they were just as surprised as the fans were when she tweeted the album release.
"Cardigan" is the most popular song in Folklore and is the first music video for the album. "This song is about a lost romance and why young love is often fixed so permanently within our memories. Why it leaves such an indelible mark."
Something about folklore that stands out to are the three songs about an  elaborate love triangle through different perspectives. Swift says that it is about teenage love, and fans believe "Cardigan," "Betty," and "August" are the songs that revolve around the theory.
A special meaning to a particular song that has ties to family and to the modern day issues is "Epiphany." Swift says she was inspired by her grandfather who fought in World War II, and by using the heroic actions from the past;  she was able to connect it to the present day health care workers fighting the coronavirus. The biggest giveaway is the verse "Something med school did not cover, someone's daughter, someone's mother, holds your hand through plastic now."
Taylor Swift enjoys putting recurring themes, easter eggs, and personal touches into her music, so it's no surprise that folklore is filled with them. The alternative tunes from the album is an essential part of Taylor Swift's growth as an artist, and is a must listen to for future generations.