Jackson Prep vs. Simpson Academy: Running game does the legwork in 49-21 win
On Friday, the Jackson Prep Patriot football team traveled to a very muddy Mendenhall, Mississippi, to take on the Simpson Academy Cougars. The Patriots, a week removed from their opening win against Heritage Academy, arrived with very high expectations. Despite the sloppy field conditions, they delivered on these expectations with a resounding 49-21 victory.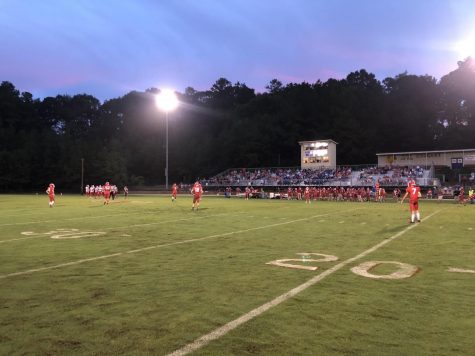 As stated, weather patterns from the outskirts of Hurricane Laura left Simpson's field with 5 inches of rain just days before Friday's game. However, the showers proved to be a blessing for the Patriots, as Matt Jones and the rushing attack shined while Simpson's passing offense slipped out of control with 4 interceptions.
The scoring started early for Prep's offense, as Thaxton Berch scampered to the endzone on a tricky reverse pitch. The momentum swing continued with a Luke Williams interception on Simpson's next drive, leading to Matt Jones' first touchdown run from 45 yards out. But, the Cougars responded with a big play of their own after they completed a deep jump ball. Unfortunately for the hometown fans, the score would get no closer than 7 points for the rest of the night. The rest of the first quarter was dominated by the Patriots, beginning a very long kickoff return from Jeffery Ince. This led to another Matt Jones touchdown run and two scoring interception returns from William Deas and Thaxton Berch.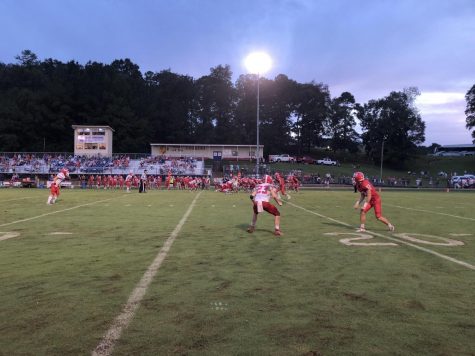 The second quarter and beyond seemed to be a time of experimentation for Prep. After Matt Jones weaved his way to the endzone once again, this time on a short screen from Riley Maddox, the Patriots made a noticeable effort to bring life to their passing game. Maddox checked down to several short routes before Jeffery Ince took the top off the Simpson secondary for six. With a 49-7 lead, Coach Black began to substitute players in swarms. One of these players was senior Chris Peal, who was playing his first game with the team. Peal's physicality on defense stood out on the game's live stream, easily tossing would-be blockers and making tackles from sideline to sideline. Expect to see Peal in the main rotation sooner rather than later.
Indicated by the 49-21 final score, Simpson would score twice more on a diving catch and a late inside run. In the second half, several younger players made their mark, including William Walker, who pulled in an interception from his deep safety position. Additionally, Sam McMullan had several good runs. Experience has proven to be a vital part of Prep's football tradition, as big leads create more minutes for underclassmen, adding depth and ensuring success for seasons to come.
As for this season, there is currently a hole in the schedule. Prep's next opponent, Oak Forest Academy, is not yet cleared to play football because of their location across the state line in Louisiana. Although there have been attempts to schedule a new opponent, it is looking doubtful that the Patriots will have a game this week. However, you can view any potential schedule updates on The Sentry's various social media accounts.