Voting by mail debate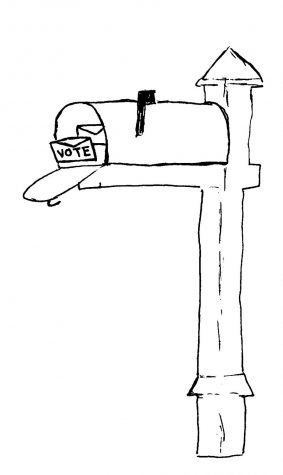 After the many problems with long wait times and a lack of social distancing that arose during the primary elections earlier this year, many Americans are worried about the safety of in-person voting on November 3.  
In order to ensure that everyone will still be able to vote, many politicians, including House Speaker Nancy Pelosi, are suggesting that ballots be mailed to and from American homes remotely through the United States Postal Service. 
An absentee ballot is a vote cast by someone who is unable to vote directly at a polling station on election day.  Absentee ballots are usually sent before the election day, but are counted if post marked as late as the day of the election itself.  This system of sending ballots to all voters, not just to those who request an absentee ballot, has been termed "mail-in voting."  Speaker Pelosi: "[M]ail-in voting in the upcoming election will be an essential option for Americans' safety and well-being."
While an increase in the number of absentee ballots is sure to be expected, several other politicians, including President Trump, have expressed concerns that a mail-in voting system would lead to greater voter fraud.  President Trump: "Mail ballots are very dangerous for this country because of cheaters. They go collect them. They are fraudulent in many cases. They have to vote. They should have voter ID, by the way."
Postmaster General Louis DeJoy has said that he thinks the US Postal Service will be able to handle any increase caused by the election, though he admits that there might be some delay or slowdown.  
To account for this slowdown, a few states, including Pennsylvania, plan to extend the due date for ballots until November 6.  Mississippi has no plans to adjust the postal service within the state or extend the date vote can be received, but absentee ballots are available for those who need one.