Barrett confirmed after quick but intense process
On September 18, 2020, Ruth Bader Ginsburg, Associate Justice of the Supreme Court, passed away after serving for 27 years on the United States' highest court. 
Ginsburg started her legal career advocating for gender equality and women's rights. She began her career in 1963 as a professor at Rutgers Law School. Her writing on legal issues got her known and in 1972, she co-founded the Women's Rights Project at the American Civil Liberties Union. With ACLU, she argued six cases before the Supreme Court on gender discrimination cases, winning five of the six. In 1980, she was appointed to the U.S. Court of Appeals for the District of Columbia Circuit by President Carter. She served there until being appointed to the Supreme Court in 1993 by President Clinton where she became the leader of the court's liberal wing.
Some of Ginsburg's most notable moments on the bench were that she wrote the majority opinion for United States v. Virginia (1996), saying that the Virginia Military Institute couldn't bar women from being admitted on the basis of gender. In Obergefell v. Hodges (2015), she joined the majority opinion to help overturn same-sex marriage bans, legalizing same-sex marriage in every state.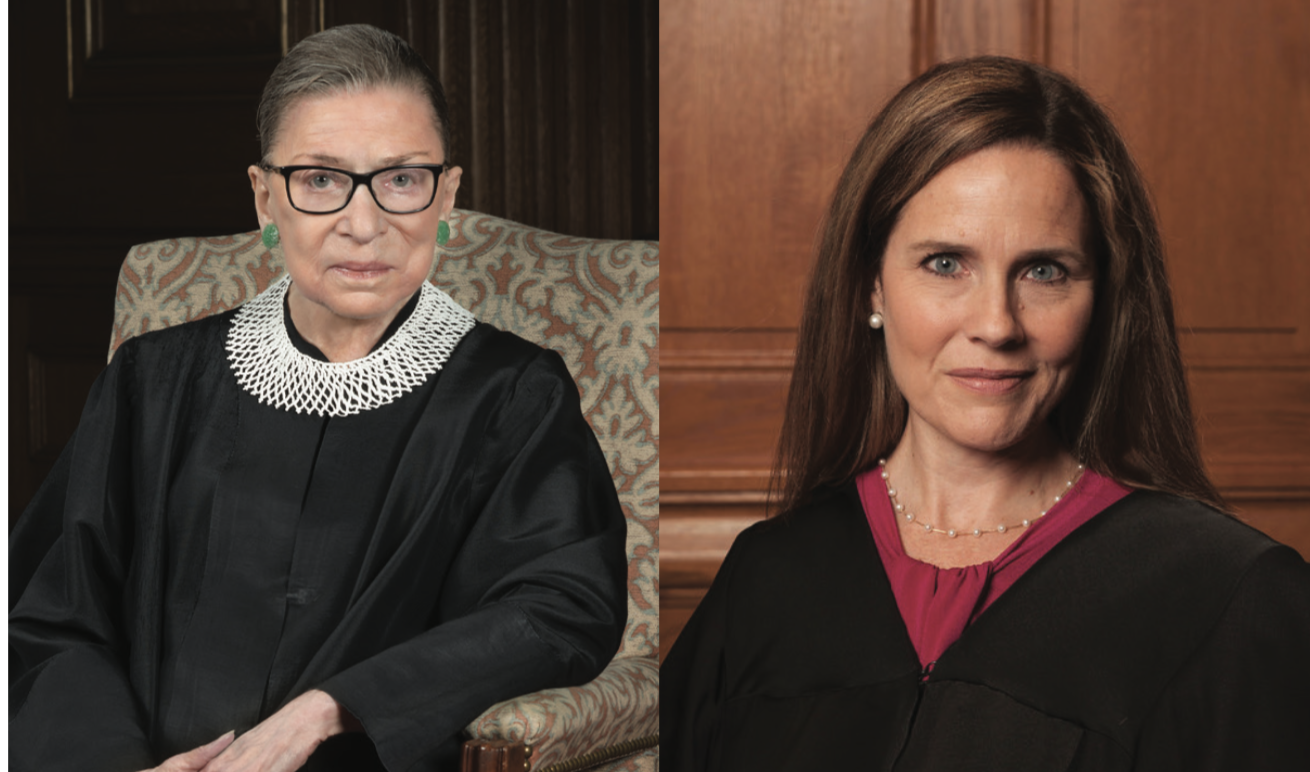 After Ginsburg's passing, President Trump nominated Amy Coney Barrett to the Court who was confirmed on October 26, establishing a 6 to 3 conservative majority. This nomination and confirmation caused a lot of controversy as the Republican Senate refused to hold hearings in 2016 when President Obama nominated Merrick Garland to fill Justice Antonin Scalia's seat after his passing. Both Republicans and Democrats swapped their opinions on whether or not a justice should be confirmed in an election year. In a reversal from 2016, Senate Democrats said that the vacancy should be filled by whoever wins November's election and Senate Republicans said that the vacancy should be filled immediately.
Amy Coney Barrett was nominated for the Supreme Court on September 26. She started her career as a judicial law clerk for Judge Laurence Silberman from 1997 to 1998 and then for former Justice Antonin Scalia from 1998 to 1999. She then practiced law and eventually made her way to teaching constitutional law at Notre Dame Law School where she received the "Distinguished Professor of the Year" award 3 times. Barrett then served as a circuit judge for the Seventh Circuit. She was nominated and confirmed to this position by President Trump in 2017. 
Barrett is the mother of seven children, two of which were adopted from Haiti. Barrett is also very religious; she is a devout Catholic and a member of the religious group "People of Praise." Barrett said in her confirmation hearings that her religious leanings would not influence her rulings. "I would never impose my personal convictions upon the law," she said.
During the confirmation hearings, Barrett refused to say which way she would rule on different cases, saying that doing so would be disrespectful to the specifics of each case. However, Barrett pledged to always apply the law fairly and equally, as the Constitution was originally written, rather than how it is read today. As a senator pointed out during her confirmation hearings, Barrett did not use any notes when being questioned, something unprecedented. Barrett's hearings were much less controversial than previous nominations, such as Justice Kavanaugh's. With her confirmation, Barrett is the only sitting Justice that did not go to Harvard or Yale. 
As previously stated, Barrett was confirmed by the Senate on October 26. The confirmation vote was mainly along party lines, with the Republican majority passing her on a 52-48 vote. On October 27, Barrett took the judicial oath, officially making her a Supreme Court Justice.