Net gains for volleyball
Jackson Prep Volleyball has recently completed one of the most successful seasons in Prep Volleyball history. Led by Coach Shelby Grace Mays and seniors Rebecca Burrow and Julia Sumrall, the team finished their final matches of the season on Thursday, October 15th with intense play in the MAIS state tournament. Prep finished 3rd place behind 2nd place Hartfield Academy and 1st place Jackson Academy.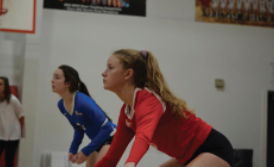 Here at Prep, we have four volleyball teams. These teams include the middle school A and B teams, junior varsity, and varsity. Tremendous growth has been evident among all four teams as the season progressed. Most regular season games are played around the Jackson area; toughest competition including Jackson Academy and Hartfield Academy. The girls also travel to places such as Presbyterian Christian School in Hattiesburg. A favorite memory from every season is always bus trips with the team and eating dinners together.
The varsity starting lineup from the 2020 season included girls from the 9th grade all the way to the 12th grade. The girls on the volleyball team have an incomparable bond and treat each other as family. Senior and Mississippi College commit Julia Sumrall had a unique experience this season as she played alongside her younger sister this season. Sumrall says, "I'm so glad I got to play with Jane Anne for senior year. It was nice to have her accountability on and off the court. It was also so much fun to hype each other up in the car on the way to games. I'm going to miss playing with her."
The volleyball team has experienced plenty of success since Coach Mays came to Prep, competing far into the playoffs each year. The team strung together an outstanding season, and the future looks bright for next year.