What's the hype with Luke Combs?
One of the biggest stars of the country music scene has just released several more tracks for his rapidly increasing audience. Born in Charlotte, North Carolina, Luke Combs has been named "the most promising and influential new country star of the last five years" by The New York Times. With over 11 million monthly listeners on Spotify, Combs has grown in popularity in the past several years due to his quality music and personality.
Originally born in Charlotte, Combs moved to Asheville, North Carolina, where he grew up and spent most of his life. He attended Appalachian State University, where he eventually dropped out to pursue his music career in Nashville, Tennessee. Years after releasing his initial single "The Way She Rides," he signed a record deal with Sony Music Nashville. Combs is accompanied at Sony Music Nashville by Kane Brown, Miranda Lambert, Maren Morris, and Brad Paisley, to name a few. He was recently inducted into the Grand Ole Opry in 2019 by country icons Vince Gill and the late Joe Diffie. Combs joined Brooks & Dunn on their hit "Brand New Man" for the Brooks & Dunn Reboot album. He then returned the favor by inviting the historic duo to join his recent hit "1, 2 Many."
Since shortly attending Appalachian State in his home state of North Carolina, he continues to show his support for the black and gold. As an avid fisherman and outdoorsman, he is an ambassador for some of the most popular outdoor brands. Combs is an ambassador for Columbia PFG as well as Blue Otter Polarized sunglasses. He has even collaborated with Crocs on two projects so far. Combs often spends his time playing golf and hanging out with his family while he's not on the road. 
Seven consecutive No. 1 singles on Billboard's Country chart, an ACM, CMA, CMT, Billboard award, and a Grammy nomination, all do not come easy. With long days of writing and recording songs, he keeps racking up streams as he keeps putting out new hits. During the quarantine of 2020, Combs wrote nearly 40 to 50 new songs. As with many songs in 2020, Luke's new track "Forever After All" managed to leak on TikTok. After quickly spreading across the platform, many fans shared the song clip repeatedly, requesting that the song be released. Combs said that he had been holding this song back for nearly two years.
"Forever After All" debuted at No. 1 on the Billboard Hot Country Songs chart as well as No. 2 on the Billboard Hot 100 chart, marking the highest entrance ever for a male country solo artist. "Forever After All" is inspired by Luke's new wife, Nicole. Nicole was also behind Luke's No. 1 singles "Beautiful Crazy" and "Better Together."
"Forever After All" beat out Ariana Grande's new single "Positions" for number one on the Rolling Stone Top 100 Songs chart. Before its initial release, "Forever After All" earned nearly 25 million streams and close to 50,000 downloads. "Forever After All" marks the first time a country song has topped this specific chart since "Old Town Road" last summer.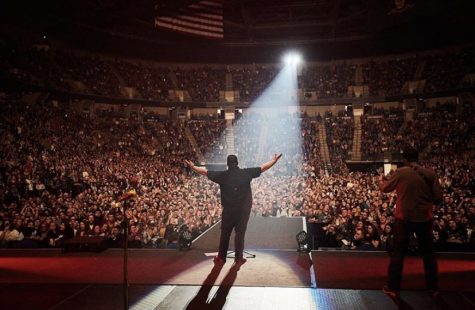 His first hit single, "Hurricane," sold 15,000 copies in its first week. It soon debuted at number 46 on Billboard's Hot Country Songs chart. After holding the number 1 spot on the country radio airplay chart, Combs signed his record deal with Sony Music Nashville. His first album, This One's for You, held many of his hit songs. This triple-platinum album has now spent 50 weeks at #1 on Billboard's Top Country Albums chart and was the most-streamed country album of 2019. This album was followed up exactly a year later with a deluxe edition version titled This One's for You Too (Deluxe Edition). The deluxe album featured five new songs: "Houston, We Got a Problem," "Must've Never Met You," "Beautiful Crazy," "A Long Way," and "She Got the Best of Me."
Combs released his second album What You See Is What You Get in November of 2019, which held hits such as "Better Together," "Beer Never Broke My Heart," and "Refrigerator Door." He released his new deluxe album, What You See Ain't Always What You Get, on October 23, 2020, which featured all 18 songs from his platinum-certified, global #1 record, What You See Is What You Get, as well as five new tracks including his astonishing new hit "Forever After All." What You See Is What You Get was released last fall and debuted at #1 on both the all-genre Billboard 200 chart as well as Billboard's Top Country Albums chart. The album recently spent its 25th week at #1 on the Top Country Albums chart making Combs the first artist ever to have their first two studio albums spend 25 weeks or more at #1. The album also had the largest streaming week ever for a country album with 74 million streams.
Continuing his triumphant run at country radio, this is Combs' ninth-consecutive #1 single as well as his eighth multi-week #1. Adding to a series of groundbreaking and historic years, Combs recently won two awards at the 55th ACM Awards, three awards at the 2020 Billboard Music Awards, and is nominated for six awards at the 54th CMA Awards, including Entertainer of the Year.