A North Jackson showdown goes south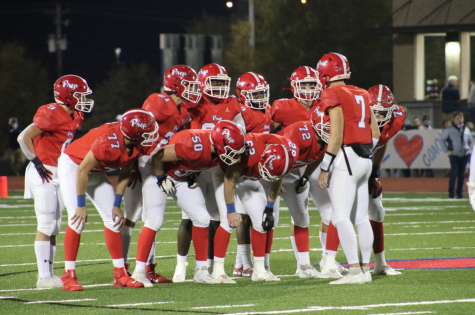 The first football game of November brought a familiar opponent to Flowood: the Jackson Academy Raiders. The Patriots hoped to protect their home turf against their cross-town rival for the second time this season. The regular-season matchup finished in the hands of defensive back Jeffery Ince, who capped off a three-touchdown performance with a game-sealing interception return. However, the playoffs heighten expectations and emotions, writing an eventful new chapter in this storied rivalry.
As the Patriots emerged from their inflated tunnel with smoke and balloons, their opposition stood before a mass of white on the opposing sideline. Prep struck first, as Matt Jones snuck to the outside of a red zone formation to make the score 7-0. However, Jackson Academy responded with a long drive of their own. The Raiders filled their side of the scoreboard with a passing touchdown to the visitor's side of the south endzone. With the first half winding down, Prep strung together another quality drive, marching towards the endzone with a powerful rushing attack. Senior quarterback Riley Maddox connected with Matt Jones on a goalline out-route for the half's final touchdown. Both teams trudged to their locker rooms with the score favoring the home team 14-7.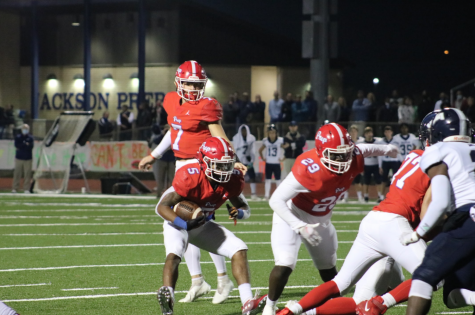 The second half was riddled with plot twists, culminating with an ugly comeback. The Patriots knocked on a touchdown's door once again, punching through the Raiders with another strong goalline push. The defense continued to be stingy against Jackson Academy's offensive attack, preserving the 21-7 lead after the Raiders picked off an errant pass. However, the momentum began to swing in favor of Jackson Academy after quarterback Jackson Conn lobbed a deep ball into the hands of a Raider receiver in the endzone, who got away with a potential push-off penalty. The Raiders followed that big play with another by jumping on an onside kick. Despite the turn of events, both defenses prevailed on each team's ensuing offensive drive to retain the seven-point margin. The first crack in the Patriots' rushing defense was revealed in haughty fashion by a 75-yard touchdown run soon thereafter.
With a championship game appearance at stake, Prep was unable to manage the pressure of the situation, falling 21-28 to Sheffield's bunch after a game-sealing touchdown. There is undoubtedly positivity to be found in the Patriots' season, primarily shown by the determination that characterized the 2020 campaign. Among many things, we saw brilliant catches from Thaxton Berch, elusive runs from Matt Jones, and rib-rattling tackles from Braedon Mabry. Players battled through injuries to help their team the entire season, exemplifying the unselfish attitude that the coaching staff requests. The Prep family is proud of each student that donned the red and blue this fall, and we applaud your efforts.