A record six sign national letters of intent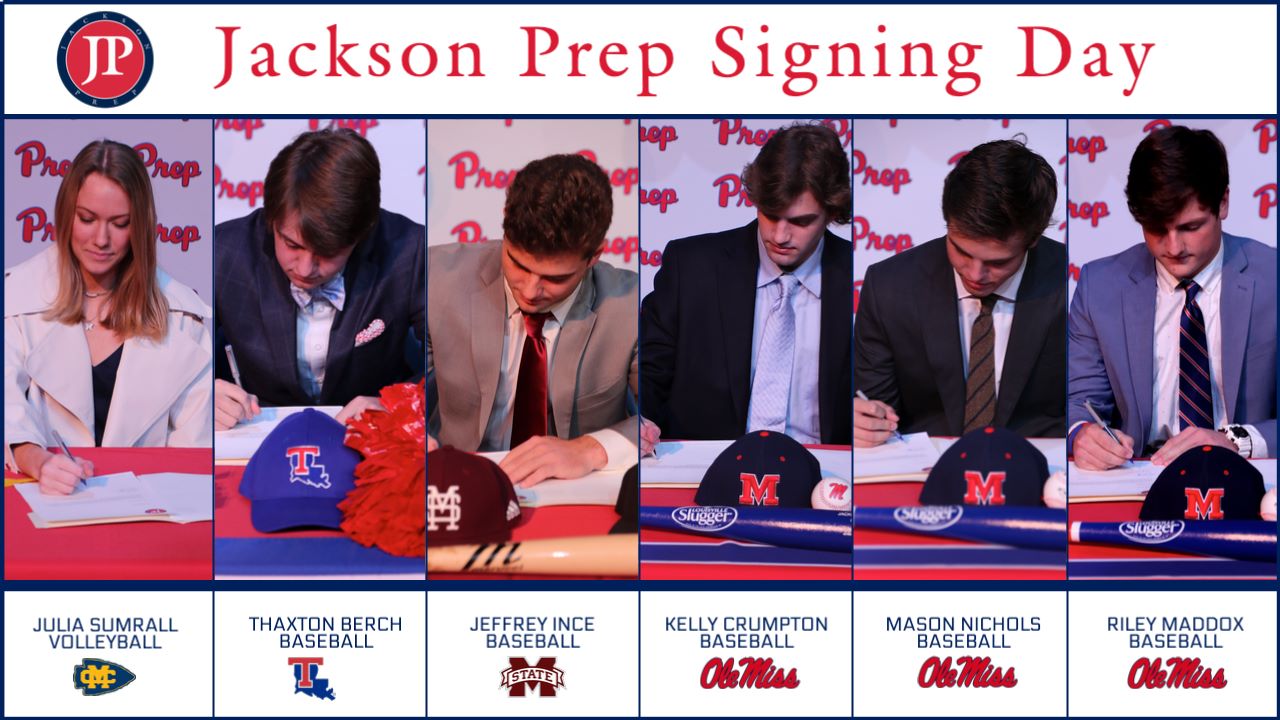 Six members of Jackson Prep's senior class recently signed their letter of intent to continue playing athletics at the collegiate level. Five boys signed to continue their baseball career, while one girl signed to continue playing volleyball. This group of six student athletes who have signed to play at the next level have been very successful during their time at Jackson Prep and hope to continue that success at the next level.
Starting with baseball, three Jackson Prep seniors signed to play with the University of Mississippi. The group consists of shortstop Kelly Crumpton, Right-handed pitcher/third baseman Riley Maddox, and right-handed pitcher Mason Nichols. These three will join an outstanding recruiting class for Ole Miss, and will be at Ole Miss alongside former outfielder Jerrion Ealy.
Outfielder Thaxton Berch has signed to play baseball at Louisiana Tech University. He has been a very successful player for Prep the last two years and is hoping to continue his success in Ruston, Louisiana. And finally, infielder Jeffrey Ince has signed to play baseball at Mississippi State. Ince is going to be the first Bulldog from Jackson Prep since outfielder Jake Mangum, and is hoping to be the next great Prep athlete to play at MSU.
For volleyball, senior Julia Sumrall has signed to play at Mississippi College. She was a dominant player for the volleyball team this season, earning All-MAIS team honors. She is the first Jackson Prep volleyball player to play at the collegiate level and is hoping to continue her success at MC.
Overall, this senior class has been very successful over the past few years. It is a great accomplishment to see these athletes be rewarded for their hard work and talent by getting the chance to play at the next level.