Prep sailing team competes in NOLA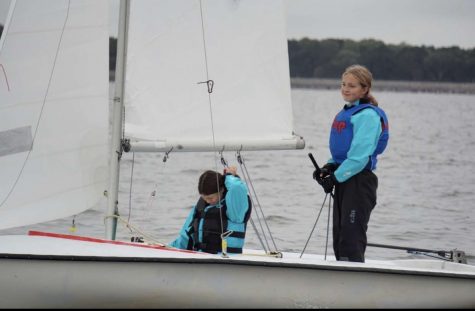 On November 20th, the sailing team competed in a regatta at the Southern Yacht Club in New Orleans. They competed against Isidore Newman School, Mount Carmel, St. Michael's, Fairhope, St. Andrew's, Clear Lake, Ursuline, Jesuit, Ben Franklin High School, and St. Stanislaus. 
Senior Mitchell Martin skippered a 420 sailboat with sophomore Allison Currie as his crew. The pair was on the water from nine in the morning to four in the afternoon in their quest for a win. While Isidore Newman won overall, Mitchell and Allison were able to win the silver class against a very tough group of opponents. They were supported by sponsors Ms. Chere Guilbeau and Coach Dale Currie.
Ms. Gilbeau teaches coding and math in Junior High, but she always makes time for the sailing team. She brings a happy attitude and always encourages the sailors to keep going and keep getting better.
Mitchell and Allison, along with the other members of the Prep sailing team, have been practicing all year at the Jackson Yacht Club in preparation for the regatta. They have both been involved with sailing all their lives. Mitchell and Allison were two of the founders of the team in 2017. Allison was in 7th grade and Mitchell was a freshman at the time. Allison has been sailing with her father, Dale Currie, since she was just seven years old. 
Allison said, "My mom made me do chores every Sunday while the rest of the family went out and sailed, so one day I was so sick of doing chores that I went sailing and loved it." She continued by saying, "I learned that every little thing you do matters while on a sailboat." 
The pair enjoyed hanging out with their friends from Fairhope, Alabama, and playing mini golf in New Orleans. They both said that the best of their trip was winning their class and bringing back a win for Prep. Mitchell finished by saying, "I can't wait for the spring season, and I hope everyone will consider joining the team."