Food Fanatics review: Nagoya
           Who doesn't appreciate a tasteful and unique spot to engorge your appetite, whether for a snack or dinner? Rated for the presentation, taste, and quality, we will individually review each restaurant and give feedback with an overall score. (If you have any restaurant spot suggestions, email us at [email protected])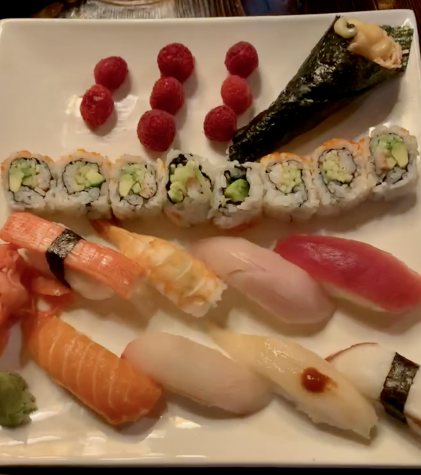 Nagoya is a Japanese Cuisine restaurant located in Madison, Mississippi. Providing many delicious options from Unagi Donburi, a barbeque eel dish, to Tempura Soba, a traditional buckwheat noodle soup, they offer a variety of unique Japanese dishes for the surrounding community. Nagoya, having an array of sixty five different options of sushi, definitely sets this restaurant apart from the other Asian styled vendors in the area.The sushi prices vary from $4.75 to $14.25, with the amount of rolls changing with the price.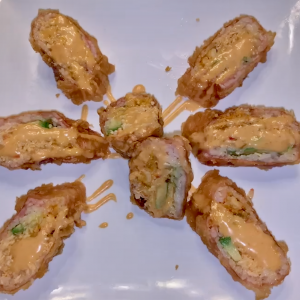 Arriving with a hungry stomach, we ordered the sushi combo dinner, the Pink Lady roll, the Caterpillar roll, and a side of fried rice. We then enjoyed complementary soups and salads that were included with our dinners. To say that our jaws dropped when the server brought the dishes out is not to be exaggerated. The combo sushi dinner came with eight different nigiri rolls, eight California rolls, a crab and scallop filled cornucopia, and raspberries for garnish. It cost $22, but after sampling each sushi, it was concluded that they had given it a fairly reasonable price. If you love nigiri rolls, then this is the perfect dish for you.
We then proceeded to the Pink Lady and Caterpillar roll, which were each considered a "special roll." Both names were beautifully represented through the presentation. The Caterpillar roll was stuffed with shrimp tempura and asparagus, topped with avocado, fish roe, and spicy, dynamite, and eel sauce. The avocado slices were placed around each roll giving it the appearance of a caterpillar. The combination of the diverse flavors burst in our mouth and proved to give a delightful taste. Lastly was the Pink Lady roll, which was filled with snow crab, spicy crawfish, and avocado. It was then wrapped in a pink soy wrap, deep fried for a crunchy shell, and served with spicy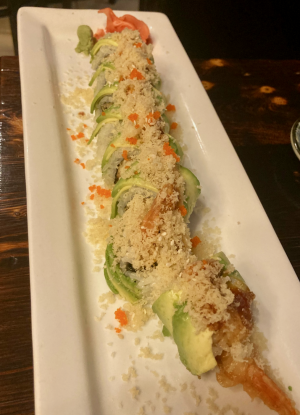 mayo. This roll was to die for. It was the favorite of the night and quite frankly, it was one of the best sushi rolls we had ever had, which is saying a lot coming from avid sushi eaters. If you ever go to Nagoya, this is THE roll to get. 
We left feeling full and satisfied with the promise of coming back soon. The presentation, quality, and taste of Nagoya's cuisine was on point. We were also impressed by the service as it only took ten minutes for our food to arrive. With all this in mind, Nagoya has rightly earned a 8.5 out of 10. The food was delicious and filling, and the service was amazing. Nagoya is high on our "sushi love list," so make sure to stop by! We doubt you'll regret it.