Newly elected junior high president takes office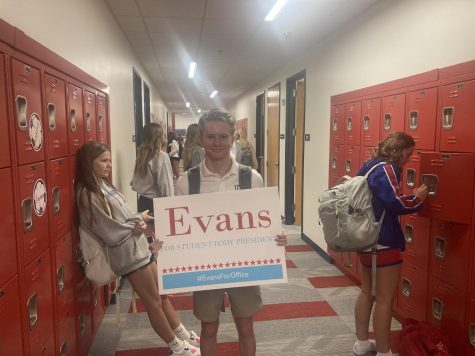 The 2021-2022 Junior High Elections were Thursday, September 2nd, with three contenders campaigning for Student Body President, a position only available for 9th graders. Elliot Davis, Meredith Hawkins, and Evans Reynolds were all in the running.
All three of them made their own unique videos that emphasized their campaign. The signs have been hung all around the junior high building, swaying votes and changing minds. Friends of the candidates helped campaign for them by posting pictures of the contenders on their Instagram or Snapchat stories.
Everyone in the junior high votes for the student body president, so campaigning for the junior high student body president position was a tough task, with the nominees having to win votes from students in other grades as well, which they might not have known personally.
"
Of course, a little competition never hurt anyone either, but it would definitely be my new knowledge of strategy when it comes to promoting your voting cause and platform that I think helped swing my win. I think that it will benefit me for future elections as well."
— Evans Reynolds
The race was competitive, as the winner would take the forefront over leading the Junior High. When the voting began and the race went down, turmoil began to flood the Junior High. Elliot Davis and Evans Reynolds received the same number of votes, with Meredith Hawkins coming in third. There was then a runoff vote between Elliot and Evans.
Students were emailed their new ballots in order to choose from 2 contestants this time. Voting in the runoff closed during lunch that day, and Evans Reynolds was crowned the new Student Body President of the Junior High, beating Elliot.
After all that happened during the race, Evans said, "Running for office was a great experience that I was happy to share with Meredith and Elliot.  I really enjoyed how devoted and involved we were as far as our own campaigns, but also helping with each other's. "
Evans will embark on a new chapter this year, leading the junior high into the 2021-22 school year with new ideas and promises to keep as the new junior high's student body president.