"Marry Me" hits romantic-comedy sweet spot
Each and every year the entertainment industry finds many new ways to celebrate Valentine's Day. Whether it be movies, events, television series, or new novels, the romantic holiday market grows more and more each year.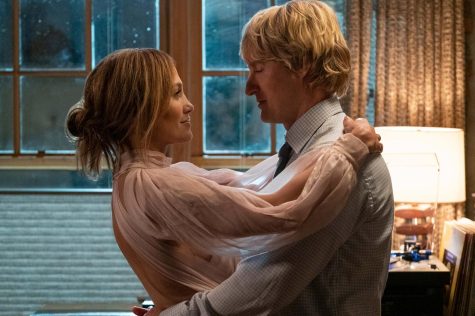 This past Valentine's Day, Hollywood directed and produced Marry Me, a story of a passionate yet innocent romance found in the most unexpected of places. 
The movie, directed by Kat Coiro, has been releasing trailers on loop through social media and television programs all up until its recent release date, February 11, 2022. As the film came to theaters just in time for Valentine's Day, newlyweds, singles, and all audiences alike can find some hope from this film. 
The plot of the romance film centers around the newly engaged pop superstar, Kat Valdez. As her smash hit songs center around love, she plans to get married on stage in front of her loyal and loving fans just as she is closing out her tour in Manhattan. 
Before the final act of the performance sources are leaked revealing a heavy truth which causes the Latino singer and songwriter to spiral. But as the saying goes, the show must go on and a marriage is in fact made out of the occasion.  
When forces and obstacles both personal and professional line up to try and test the newlywed couple, the unlikely pair must decide they each can find love within such unlikely circumstances and if that love can continue to grow and prosper.
The film stars Jennifer Lopez and Owen Wilson, both of whom are no strangers to a romantic comedy or drama. The actor and actress received much praise for their roles in this film. 
The movie reached audiences both in theaters and on Peacock, a streaming service which allowed viewers to see the film exclusively. 
As movies are shuffling through theater hallways early this year, Marry Me earned heavy recognition. The movie had a 60% audience approval rating while watching it in theaters as well as another analysis where 86% of google users enjoyed this film. 
On social media Marry Me has seen a high amount of interaction with users following their social media page and interacting with ads appearing in and out of Instagram stories.