Speech and Debate Team Launches Into Season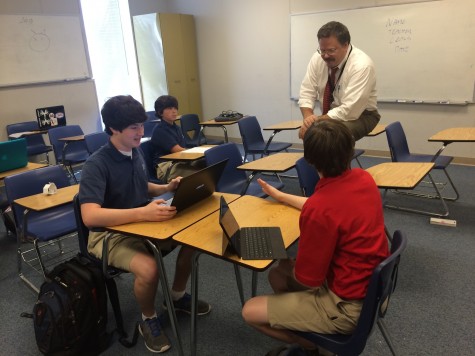 As we enter the 2014-2015 debate season, Mr. Richard Younce is in his second year sponsoring Prep's Debate Team. Mr. Younce, a Prep alumnus, was a teacher at Prep from 1994-2002, then returned 2 years ago and was asked to be the sponsor for the Debate team.
Debate is open to students in grades 9-12, and helps develop skills in reasoning, logic, writing, and public speaking. Before the team attended their first tournament of the year, the John C. Stennis Novice Invitational at Mississippi State University, I asked Mr. Younce what his hopes for this year's team were. His response was "It's supposed to be fun," and he added, "new students will learn quickly," and said that his veteran debaters should help insure a good win/loss record.
Debate tournaments start at 5pm on Fridays and can end anywhere from 9pm-11pm on Saturday. Students engage in debate and other related activities almost the entire time.
The team will attend at least 6 or 7 tournaments during the season. "Every veteran or 'newby' is expected to go if they are physically able," said Mr. Younce.
The debate veterans train the "newbys". This year's 2014-2015 debate veterans are: William Leech (sophomore), Abi Burton (junior), George B. Fike (junior), Seth Lenoir (junior), Hannah Herrin (junior), Marina Joel (junior), and, when available, Ty Thompson (senior).
To prepare for each tournament the students research the given topics, memorize speeches, and practice giving them. It takes a lot of effort, but "nobody wins unless they try," said Mr. Younce.