Bee Tests Students' Geographic Knowledge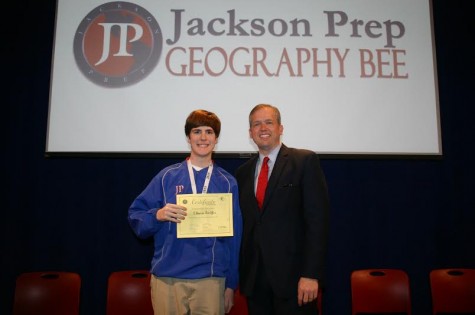 Eighth-grader Edwin Griffis won the school-level competition of the National Geographic Bee on Wednesday, January 28, and with it a chance at a $50,000 college scholarship, lifetime membership in the National Geographic Society, $500 in cash, and a trip to the Galapagos Islands.
The school-level Bee, at which the students answered oral questions on geography, was the first round in the 27th annual National Geographic Bee.  Edwin competed against the top scorers in grades 6-8 at Prep and will now take a written test.  The top 100 scores in the state will be eligible to compete in their state Bee on March 27.
The following students were the top scorers in grades 6-8 and competed in the school-level Bee:
6th grade:  Mason Nichols
7th grade:  Hannah Grace Biggs, Ethan Herrin, and Jon Sanders Watson
8th grade:  Hunter Bryson, Tripp Cory, Reece Davis, Alex Gibbs, and Edwin Griffis