Acclaimed Journalist Tells Students His Story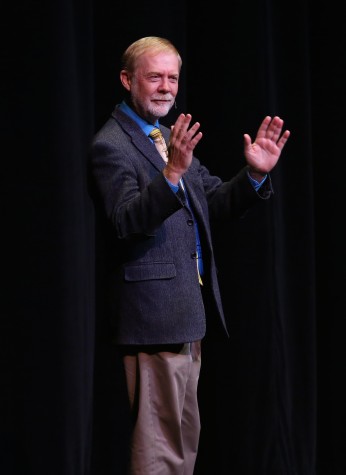 On October 13, 2015, prizewinning reporter Jerry Mitchell addressed the student body as part of the annual visiting writers series. Jerry Mitchell is an investigative journalist for The Clarion-Ledger. He played an instrumental role in reopening the case against Byron De La Beckwith for the 1963 killing of Medgar Evers in Jackson. Byron De La Beckwith was finally found guilty thirty years after shooting Medgar Evers, largely due to Jerry Mitchell's bringing the case back.
Mitchell is famous for solving or reactivating "cold cases" from the past, especially involving the Ku Klux Klan. Mitchell was a recipient of the MacArthur "genius grant" award, which gave him $500,000 dollars.
In his talk, Mitchell explained some of his more famous stories and gave students some insight into the people and circumstances behind the crimes, as well as behind his investigations.
After addressing the student body, Mitchell met over lunch with a smaller group of students. There, he shared more of his experiences and offered tips on reporting and on confronting the fears that keep people from taking risks.
Mitchell had a few words of encouragement for Prep students. He told the students to "be willing to live fearlessly and live beyond fear." He also quoted Martin Luther King, Jr. who said, "If there is not something you are willing to die for, you are not willing to live." He also made a reference to Deuteronomy 23:5 about how curses can be used as blessings. He ended the luncheon by telling the students that his favorite part about uncovering the cases is getting to know the families who were affected by the crimes. He enjoys seeing these families get justice.