Equestrian Team Rides into Victory
The Jackson Prep Equestrian Team kicked off their second season with a bang. The season started in November with a show in Birmingham, AL, the Southern Equestrian Challenge. The team left the show with ribbons piled high. The Senior High team came came in third and the Junior High team placed first. In individual events, junior Sarah Riley Jicka won in her over fences division. Madison McCreery, a senior, was another top performer during this show.
The FrostBIET (Birmingham Interscholastic Equestrian Team) Classic took place January 9th-10th in Birmingham, Alabama. The team brought home another impressive victory with freshman Darby Tipton as a regional qualifier. Tipton will travel to the Georgia International Equestrian Center in Conyers, Georgia on February 20th.
The team practices every Saturday in one hour intervals at Providence Hill Farm in Pocahontas, Mississippi. They are sponsored by Coach Brett Shufelt and coached by Providence Hill Farm trainer, Mandi Powers. The JP Equestrian team is home to members from other schools such as First Pres. and Christ Covenant. Olivia Patch, a junior, stated, "The the team has done really well this year, and everyone has improved so much in their riding."
Recently, the team added a new member to their roster. Tango, a sixteen-year-old warmblood from New Mexico, is expected to make an appearance towards the end of the season.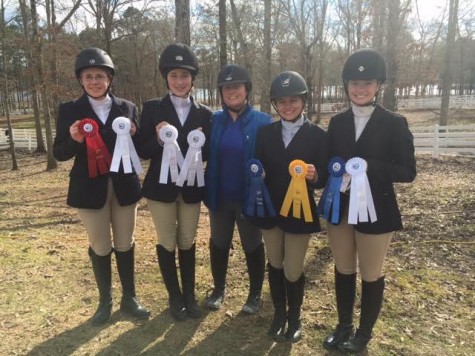 Sarah Riley Jicka reflects on the year's equestrian competitions proclaiming, "It was our best season yet. I'm so proud of Darby and everyone else who competed this year." The team is looking forward to another incredible season next fall.