Student Profile: Caroline Pringle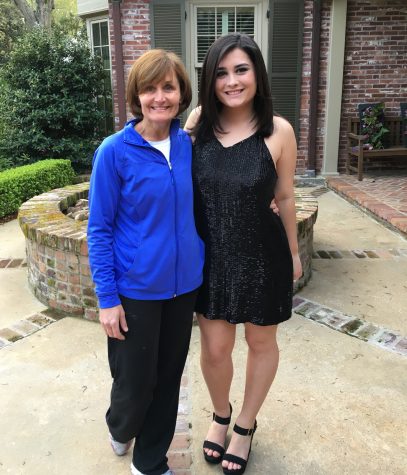 Caroline Pringle is a junior at Jackson Prep and is commonly known to be outgoing. She is very approachable and has a wide variety of friends. Caroline is involved with many different activities including Pacer and French Club at Prep.
Caroline likes to watch TV and movies, take naps after school, play cards, listen to music, hang out with friends, and participate in Pure Barre. Pure Barre is a workout facility that instructs dancing and yoga, which helps her with Pacer skills. She also enjoys believing that she has taken up the hobby of fishing. However, no one has ever seen her catch a fish, much less get a bite from one. She boldly claims, "One day, I'm going to be able to become an expert at fishing and prove everyone (Hays Dubberly) wrong."
Among the vast a-mounts of books that Caroline has read, the ones in the Harry Potter series are her favorite. Her favorite movie is "The Last Song". Country is her favorite genre of music, and "Drunk On Your Love" by Brett Eldredge is her favorite country song. Even though Caroline loves all her teachers equally, math is still her favorite subject, and her grades are a reflection of that.
Caroline's parents are Anne and Charles Pringle. Charles is a doctor from Biloxi, Mississippi and Anne is from Memphis, Tennessee. She also has two older brothers named Charlie and William or also known as "Bill". Both of them are Jackson Prep graduates and are currently attending the University of Mississippi.
Before coming to Jackson Prep, she attended First Presbyterian Day School. After she graduates Prep, she hopes to follow her two brothers' footsteps and attend the University of Mississippi as well. She is not very into sports, but she loves any Ole Miss athletic team. Some job possibilities include becoming a doctor, nurse, or stay at home mother.
Questions and Answers
What is your favorite quote?
"An arrow can only be shot by pulling it backward. So when life is dragging you back with difficulties, it means that it's going to launch you into something great. So just focus, and keep aiming."
What is your favorite TV show?
"Psych."
What is your biggest fear?
"Birds…. They really freak me out."
What is your favorite vacation destinations?
"Anywhere tropical."
What's your favorite color?
"Red."
Do you have any pets?
"I have a yellow lab named Fenway. He's really cute and adorable!!"