Red/White Scrimmage Game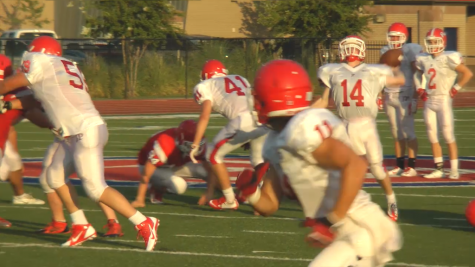 The Red versus White scrimmage game at Jackson Prep is a tradition that has been carried on since the early days of Jackson Prep football.  The Red team and White team battle it out against each other year after year to better one another for the upcoming season.
This year there was a very heated scrimmage between the two colors.  It took place on Tuesday, August 12 at six o'clock.  The crowd was cheering and the players were ready to show what they had.
There were no special teams for this game so red started off with the ball.  The scrimmage lasted an hour and ten minutes long with three touchdownst.  Two touchdowns were thrown by none other than Gene "Showtime" Wood himself and caught by Parker Carracci for the red team.  Cooper Henry had the other touchdown for the white team.
The red team won by a touchdown and afterwards there was a dinner held in the Dining Commons.
I interviewed Coach Jacob Land and Coach Ricky Black.  After the game they both agreed that they liked what they saw, but noted there is still need for improvement.
Coach Land said that he saw a bunch of people going hard on the field to better themselves and their teammates, he really liked that.
"The main objective was to give our players an in game opportunity that would give them a feel for the real in game action," said Coach Black.  He felt like some players showed maturity, but that some of the team still has a lot of inexperience.
I also interviewed Haynes "The Horse" Horsley and his thoughts after the game were similar to both coaches.  He said there are some definite things that needed to be worked on and corrected before the team plays Oxford on August 22.