Teacher Profile: Suzanne Eskrigge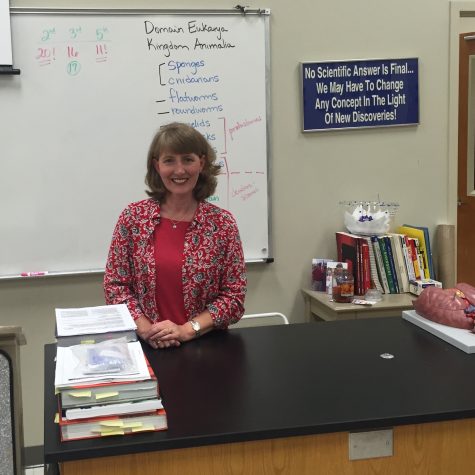 Ms. Suzanne Hasseltine Eskrigge, a Jackson Prep graduate of 1986, is currently the 9th grade honors biology teacher in the science building. Ms. Eskrigge was born and raised in the Jackson area. She attended First Presbyterian Day School for elementary and middle school. After leaving FPDS in 8h grade, she came to Jackson Prep.
Here, Ms. Eskrigge happily recalls eating lunch in the "ditch" a grassy area where clock tower and outdoor classroom is today, being a Pacer (second lieutenant), and being in the National Honor Society, and the family atmosphere. After Prep, she choose to continue her education at the University of Mississippi. Here she became a Tri Delt, where she met her future husband.
Her husband, John Eskrigge was the House Boy at the Tri Delt house. They started dating and eventually got married and had two kids, Worth and Grace Ann, who both go to prep. Worth is a senior and Grace Ann is in 8th grade. When asked about what it is like having kids at the school she teaches, she said, "It's very exciting being able to share things with them throughout their schooling but sometimes I learn too much."
Grace Ann is involved in spirit and the equestrian team and Worth in Football and Baseball. Ms. Eskrigge says her hobby is supporting her kids in these activities.
When she not supporting her kids activities and has some down time, she likes TV shows such as "Madame Secretary" and "Chicago Med."
Throughout her 22 years teaching at Prep, Ms. Eskrigge has taught college Prep biology, 12th grade advanced biology, 7th grade life science, and her current class, 9th grade honors biology. When asked what her favorite class she ever taught was, she responded "I've liked different things about them all, I loved how the 7th graders were like sponges, wanting to soak up all the new information they could. Also, how I could develop a mature relationship with the 12th graders and watch the graduate." To sum up her mindset in teaching, she stated that she wants to challenge her students to work hard to learn the material but to also let them know that she loves each and every one of them and will always be there for them.Around Prep, you will hear nothing but good things about her. Says current student, Charlie Ott, "She's the nicest lady I have ever met." Former student Addison Galloway stated, "I loved her as a teacher she was always so sweet and enthusiastic everyday."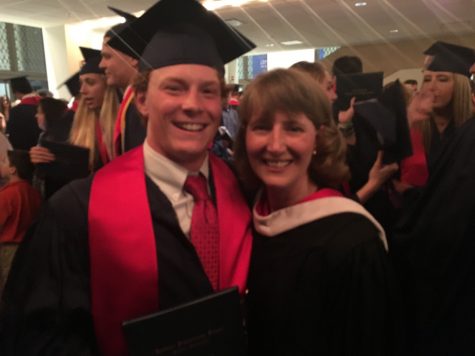 A fun fact about Ms. Eskrigge is that after Worth hit a grand slam home run in the recent baseball game, if she had made the same bet that some of the other baseball moms had made when their boys were 13, she would have had to get a tattoo because he hit a grand slam. Luckily she did not make the bet because as she said, "getting a tattoo is not an option for me." Other fun facts include her favorite color is blue, her favorite vacation destination is San Francisco, and her favorite thing about Prep is the family-based atmosphere.
Ms. Eskrigge's parting words of wisdom to the students of Jackson Prep, "Cherish every day, because life is fragile. Live fully into your own passion or purpose in life. Also, try to do something for someone else each and every day."
If you have not met Ms. Eskrigge, you definitely should pay her a visit and get to know her.