Kelly's Album of the Week: O.C.M.S.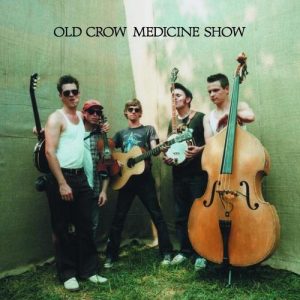 Old Crow Medicine Show is a bluegrass/folk band that takes their music back to the old days. The band started out playing on street corners in New York City, and they were discovered by Doc Watson's daughter while she was walking into a pharmacy. Their old-timey lyrics and use of strictly acoustic instruments are what gives them their classic bluegrass sound. If one characteristic of the band stands out, it is their uniqueness. Not only do they play traditional bluegrass songs, but they also play original songs that have the same spirit as the old songs do.
Old Crow Medicine Show's debut album was titled O.C.M.S. and included songs about the hard times of poverty, companionship, love, and war. Five of the eleven songs on the album are traditionals, while the other six were written by Critter Fuqua, Ma Rainey, Ketch Secor, Willie Watson, and Bob Dylan. The band is a true example of a collaboration of talented artists. Each of the band members can play multiple instruments, write songs, sing, and have a good time on stage.
The album cover for O.C.M.S. is a picture of the rag-tag band holding their instruments in worn out clothes. The song "Wagon Wheel," written by Bob Dylan and Ketch Secor, has been the most commercially successful song from this album; however, most people mistake the song as Darius Rucker's song. Commercial success is far from what the band members strive for, though. The band would rather cater to their own sound and fans than make songs to sell records, which is respectable, especially in this day-in-age.
The song "Big Time In The Jungle" is a story about a poor guy from Eutaw, Alabama that is convinced to join the war in Vietnam despite his lack of knowledge to the situation. In "Take Em' Away," a story about a poor farmer ends in tragedy with the line "My wife, she died hungry while I was plowing land." "Hard To Love" is an upbeat song that features the band's ability to make listeners dance. Their songs include many harmonica and fiddle solos, while being backed up by many more bluegrass instruments, and they are sure to bring out many different emotions in you.
Old Crow Medicine Show is a great band on album and in concert. I've seen them twice live, and they are one of the most high-energy bands I've seen. They show raw talent in their music ability and have impressive ability to create their own sound. Be sure to check out the album and more of their music.
About the author: As an avid listener of music, guitar player, singer, and band member, I thought it might be fun to give my two cents about music I enjoy. I'm a fan of most genres, but really I just want to hear music with some artistic merit. I hope to get people to listen to music they haven't heard and see if they like it. Also, feel free to suggest any music for me to listen to.