International Day celebrated at Prep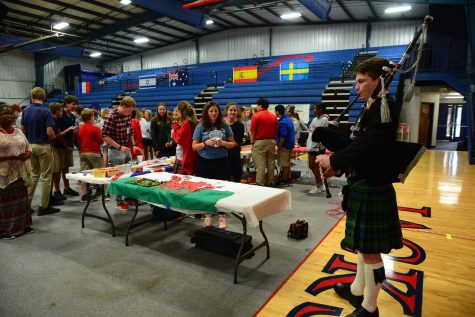 International Day was held on April 11 in the gym. This day celebrated many different countries throughout the world. Booths filled with snacks, images, and items from their represented country were in the gymnasium from 10 am – 2 pm. Volunteers dressed in clothing from their country, gave out food, offered games, and showed videos to the students.
Senior Thomas McBride brought many students to his table as he played the bagpipes at the booths for the United Kingdom. Students could hear a presentation of the country and the culture which surrounds it.
The vision of International Day is that students can learn about different countries which they might not learn about at any other place. Students from Spanish Club, French Club, and other language clubs were present at their booths. Several of our international students were helping at the table from their own country, providing a closer look and insight into the culture.
One of the most popular tables this year was Japan. Many junior high students played Mario Kart on the gaming system that the Japan table had brought. In addition to the booths in the gym, several short films from different foreign countries were shown to the students in theaters around campus. Also, the cafeteria had several foreign foods and beverages as options for lunch.
Senior Elizabeth Stephenson, a volunteer at the France table, said, "It is a great way for students to learn about different countries which they might not have learned about if it wasn't for International Day. The students had fun trying new food, drinks, and learning new facts from different countries."
This day was a time for friends to hang out with each other and learn but also have fun while doing it. International Day was a great way to showcase countries and cultures to which some of our own Prep students have connections.