Staff Profile: Emily McClain, Director of Branding and Marketing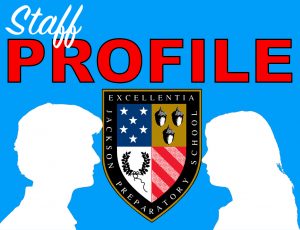 From designing the new visual in the library to creating Prep's annual Christmas cards, Emily McClain does it all. Ms. McClain has been the Director of Branding and Marketing at Prep for four years now. She has an undergrad in art and a Bachelor's degree of fine art with an emphasis on graphic design, and also has an MBA in entrepreneurship and strategic retail alliances. Ms. McClain was introduced to Prep by her college roomate and was interested ever since then. She absolutely loves working with students on various projects.
Ms. McClain designed the large book graphic in the library to allow students to feel like they are entering a "new world of reading." She also noted that the X-R lab in the library correlates to the numerous books in that they both "take you to the past, present, or somewhere that doesn't exist." This creative thinking done by Ms. McClain is what boosts Prep's image and allows it to appeal to the eye.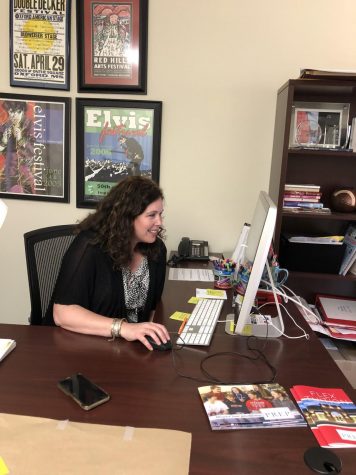 Emily McClain seeks to keep Prep's image consistent. According to Ms. McClain, "Continuity builds your brand," meaning that if you keep a consistent look, then your image will appeal to the outside eye, thus recruiting more parents and students to join the Prep community. When recruiting new families, Ms. McClain also finds it very important to make sure that the new families feel like they fit into the picture at Prep and that they can reach their full potential by choosing to attend Jackson Prep.
Besides recruiting new families to the Jackson Prep community, Ms. McClain also loves to work with students on our campus in designing many different things around Prep. For example, she loves having students' artwork, writing, creative ideas, etc. to use in showcasing Prep not only around campus, but also locally throughout the community. According to Ms. McClain, "Our brand is our students." Ms. McClain finds it quite important to showcase the students' talents and allow those around us to experience this too. 
On a day to day basis, Emily McClain strives to better tell Prep's story with visuals on campus. From designing the poster for one of Prep's formal musicals Footloose, to creating important visuals on the Prep website, Ms. McClain plays a huge role in bettering the image of Jackson Prep. Also, with her creative mind and enthusiasm to better Prep and its overall image, Ms. McClain recruits those from all over to join the Prep community and make it a better place.