Who's Your Hero? For Meg Branning, it's Stacy Sykora
Heroes don't always wear capes and have superhuman powers. A hero is a person admired for their courage, outstanding achievements, or noble qualities. Everyone has a role model that could be compared to a hero. Heroes come in all shapes and sizes, ranging from lifesaving physicians to political leaders to mothers and fathers.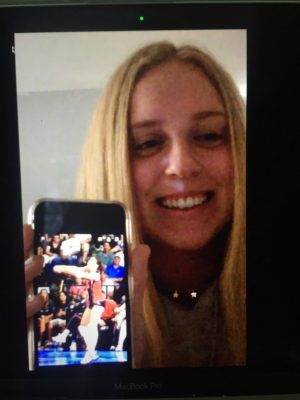 Stacy Sykora is a retired Olympic athlete and an inspiration to volleyball players.  Sophomore Jackson Prep volleyball team player Meg Branning looks up to Sykora not only for her remarkable skills but for her perseverance. 
Sykora was raised in Fort Worth, Texas and developed a love for all sports at a young age.  She quickly became a star athlete at her high school participating in volleyball, basketball, and track.  Sykora accepted a volleyball scholarship to play at Texas A&M University for her college career yet she also was a member of the basketball and track team.  She had great success while playing there and received several prestigious awards for her skill. 
In January 1999 Sykora joined the United States women's volleyball team as the newly created position called the libero.  Sykora competed in the 2000 and 2004 olympics and in 2008 she helped her team win a silver medal at the Beijing Games. 
Like Sykora, Meg Branning plays the position of libero, or defensive specialist.  Meg admires Sykora's dedication to the position and her work ethic.  
"
Success is how high you bounce when you hit bottom."
— Stacy Sykora
In 2011 Sykora was in a terrible accident where the bus carrying her and her teammates overturned.  She suffered severe head trauma and spent time in the Intensive Care Unit, or ICU. Sykora was determined to compete in the 2012 Olympics but had to retire because of loss of eyesight and delayed reflexes due to the accident. 
Despite her injury she continued to support her team and encouraged her teammates as they prepared for the Olympics.  Meg stated that Sykora's "outlook on life" was very inspirational and the dedication she gave to her team.
Meg concluded with a quote from her volleyball hero Stacy Sykora, "Success is how high you bounce when you hit bottom."