WHO'S YOUR HERO? For Jake Vineyard it's Roger Staubach
Heroes don't always wear capes or have superhuman powers.  A hero is a person admired for their courage, outstanding achievements, or noble qualities.  Everyone has a role model that could be compared to a hero.  Heroes come in all shapes and sizes, ranging from lifesaving physicians to political leaders to parents.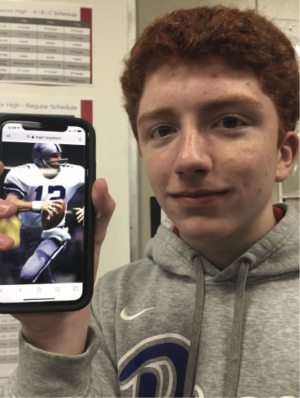 Sophomore Jake Vineyard's hero is Roger Staubach.  Staubach played for the Dallas Cowboys in the 1970s.
Jake admires Staubach's "incredible character" throughout his career as a football player and his outstanding leadership on and off the field.  
In college, Staubach won the Heisman football trophy, which recognizes an exceptional athlete who exhibits diligence, perseverance, and hard work.  Jake respects Staubach's deep faith and kindness he shows to others.  Also, Jake applauds Staubach's frugalness with his National Football League (NFL) earnings and how he continued to make money after retirement, which established Staubach as one of the most successful retired NFL players.  
Jake concluded that Roger Staubach is an "all around great guy" and his hero.