A Season in Review: Girls' Soccer
This story is part of a series detailing seasons that finished before the coronavirus postponement.
The Jackson Prep girls' soccer season was very successful, ending with the MAIS State Championship being brought back home. Coming into the year, the Patriots' rivals Jackson Academy were the reigning champions.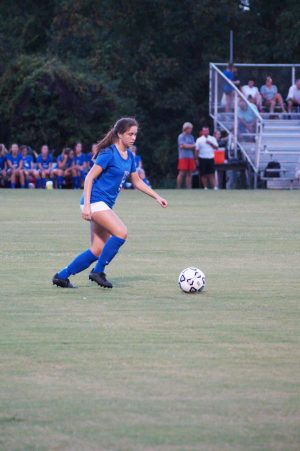 The season started off strong, with the team going undefeated in one of their two tournaments in Collierville, TN. Quickly, fans saw the potential this team had, as they won all three games, which is something rarely done in a large and very competitive event. The regular season was highlighted by matchups against MRA and JA. Prep defeated MRA both times with winning scores of 2-1 and 2-0. However, Prep could not pull out victories in two close games against JA. In their first matchup, the Raiders pulled off a 2-1 victory at the Brickyard. The crosstown rivals then went to overtime in their next game, with JA winning again by a close margin. Despite having lost in the past to JA, the Patriots were confident that if they had another shot the outcome would be in their favor.
After beating PCS 4-0 in the playoffs, the team was headed for the championship. The State Championship was played at Prep, giving the Patriots even more motivation to win. Prep went up early with a 2-0 lead, firing up a good-sized home crowd and a rowdy student section. When the final whistle blew, the scoreboard read 2-1 in Prep's favor. After a three year trip, the trophy is once again at home in Flowood. The team ended the season with 19 wins, 2 losses, 75 goals scored, and 6 goals allowed.