New Teacher Profile: William Merrell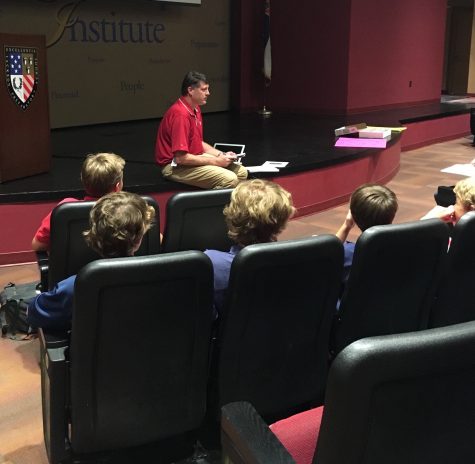 Colonel William Merrell, who is now retired from the Army, is entering his first full school year as director of the Global Leadership Institute. This job includes teaching the 7th grade Leadership class.
Although Col. Merrell was on campus last year helping to lead the GLI, he did not officially join the staff until the summer.
Col. Merrell is the husband to Kristen Merrell and the father of three kids: Marie Merrell, Mollie Merrell, and Mary Rogers Merrell. Marie and Mollie, who graduated from Prep last year, both attend the University of Mississippi.  Mary Rogers is currently in the 11th grade at Prep.
Col. Merrell attended high school at Prep, graduating in 1985. He then attended the University of Mississippi, graduating in 1989 with a degree in business. He later graduated from William Carey with a Master's in Business in 2009. He has worked as various things such as a loader of Lakeland Yard and Garden, Supervisor of Blue Cross Blue Shield of Mississippi, a surgical technician at St. Dominic Hospital, and at Amada Senior Care.
Col. Merrell also was an Army Aviation Officer with over 30 years of service. He flew UH-60 Blackhawk helicopters and led units in the MS Army National Guard, where his typical day consisted of solving problems and working with soldiers and units preparing for future deployments to Iraq and Afghanistan.
As the director of the Global Leadership Institute, Col. Merrell's main task is to provide innovative leadership opportunities and programs. GLI activities aim to cultivate student leaders that have humility and followers that possess wisdom. He creates many hands on obstacles that value the importance of leadership in his 7th grade rotation class.
Student Luke Williams described this class by saying, "Recently, we did a project on having a vision for our life, which has taught me how to make a difference in my community."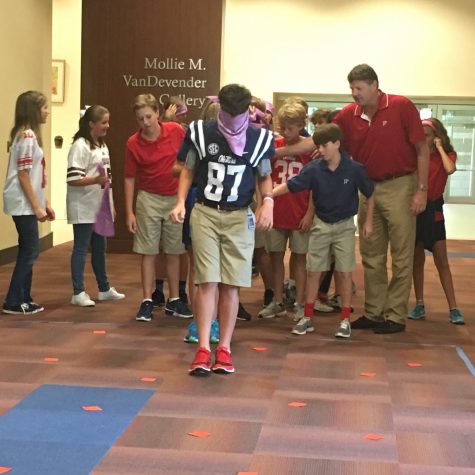 On Friday, August 26th, Mr. Merrell created a fun activity for his class that was set up as a mine field with obstacles in it that could only be overcome with help where he said, "Sometimes life has obstacles, and you have to learn how to work through mine fields".
Col. Merrell says his favorite thing about working at Prep is the people and atmosphere. He loves the great faculty and administration, as well as the students here. He loves getting to know the students here, saying "After my twins Mollie and Marie graduated Prep and left home for college, I felt a huge void is filled with interactions with Prep's student body. I lost two twins, but gained 870 replacements!"
Among the things Col. Merrell enjoys on campus are the outdoor music, smoothies, and our school colors. What would he add? "If Prep could have one change," he said, "a Chick-Fil-A would be nice".