Girls' soccer team finishes 2nd overall
From Issue 2 (as updated)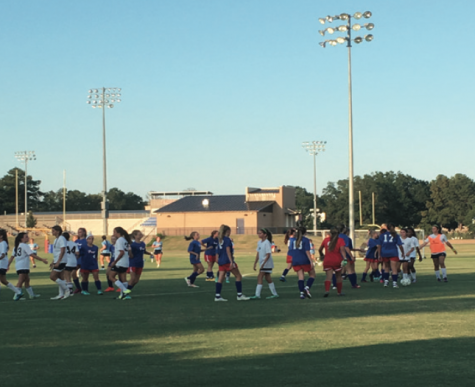 This year's girls soccer teams are coached by head coach Jon Marcus Duncan and assistant coach Jay Lyles.
There were twenty-two players on the girls varsity team and twenty-one players on the girls junior varsity team. The team practiced multiple times a week, along with a couple of games a week.
The team worked hard to get to the championship this year to achieve back to back championship seasons, and came close to doing just that.
Speaking before the championship, Coach Duncan described this year's season by saying, "It's been an up and down season so far. We had a huge win over Jackson Academy on Sep-
tember 14th. I'm excited about the remainder of the seasonand watching this team becomebetter every week."
The difference in this year's season and last year's season for the varsity team has been described by Mary Price Montagnet as, "Very different because we have had a lot of running practices and very many vigorous summer practices. This year's seniors, Addison Hughes, Ann Leighton Malouf, Shelby Wilson, Selby Jennings, London Miskelly, and Anne Rivers Mounger are very encouraging and pushing us to do our best."
Both girls' teams had many new players including: CallieMcKinney, Olivia Sasser, Cassidy ZumMallen, and Campbell Perkins (to the varsity team).
The practice season started last spring with multiple practices a week. The official soccer tryouts weren't until late July, but all of the practices leading up to tryouts influenced the tryouts as well.
The official soccer season didn't begin until early August and ends in October.
The final championship date was October 10th.
Mary Price described soccer by saying, "Even though soccer is a very time – consum-
ing and tiring sport, it is worth it because I get to play a sport that I love and get to know some great people. My teammates are my favorite part of soccer."
The girl's soccer team ended their season with a record of 17-6. In the final game, the Lady Patriots took the second place trophy. While the Patriots won both regular season games, the JA raiders were able to beat the Prep team in the final game. Despite the disappointing ending, the girls soccer team had a great season. Next year they will be back with a lot of young talent. They will be ready to reclaim their title and get their 15th state championship.