Vintage photography highlighted in library exhibit
Construction also announced on new darkroom for Prep art students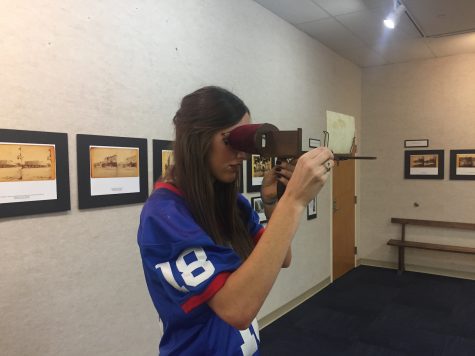 Recently Prep has celebrated the photography of past years while looking forward to the art's continuation for the future.
In November, a special exhibit in the Jackson Prep library was a collage of father and son Elisaeus and Armine von Seutter's work. The duo worked together in a photographic studio documenting the city and people of Jackson, Mississippi.
A majority of the photographs were taken by Elisaeus, but a few are by Armine, who joined his father in the career of photography later on. One of Elisaeus' best photographs can actually be found in the library. It is a panoramic photo of Jackson von Seutter took after he had climbed onto the roof of what is now the Old Capitol Museum.
The photos in the library are known as stereocards. Stereocards have the same image, with slightly different angles side by side.
This may look strange at first, but when you look through a stereoscope it provides the viewer with a 3D experience.
A stereoscope is holder that the stereo card can be placed into and held up to the face. Prep French teacher Mr. Max Garriott donated a period stereoscope for the library's use during the exhibit's run. After the exhibit, the photographs will be available upon request for viewing in the Prep library.
This form of photography was very new for that time period and revolutionized the way photos were taken from then on.
On December 7,  a special art lecture was given in the Mary Katharine Loyacono McCravey Art Gallery in the library, featured a lecture by Mississippi Department of Archives and History's Jim Woodrick.  Woodrick spoke on Elisaeus von Seutter.
Von Seutter came to Jackson, Mississippi in the mid 1800s. This is also where he began to learn photography, which soon became a second career for him. Seutter began his career by photographing and documenting his own home.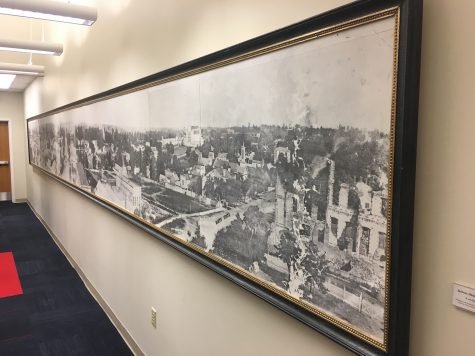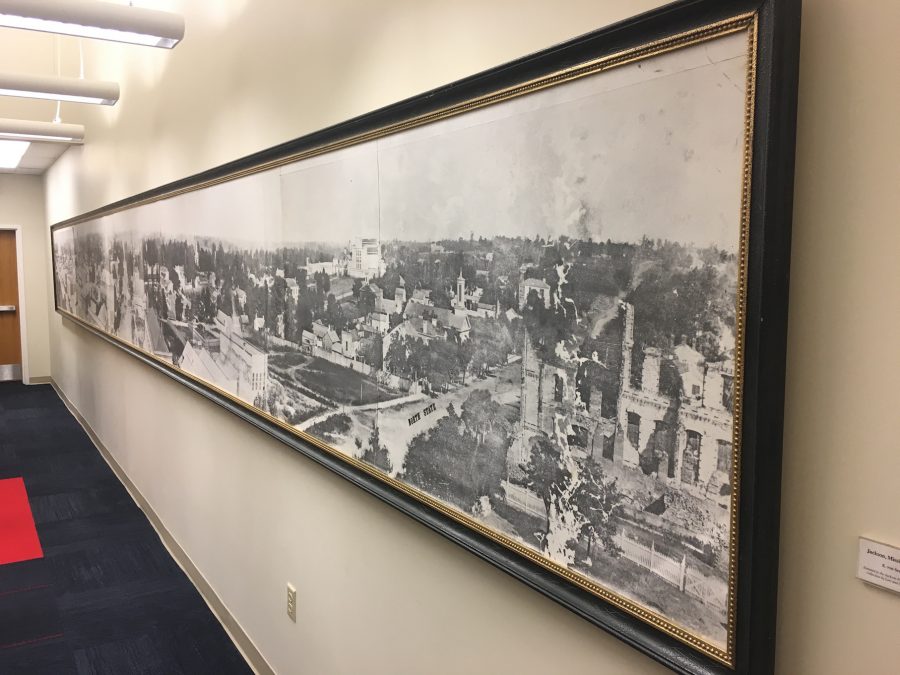 After the exhibit comes down from the library's walls, a more permanent example of Elisaeus von Seutter's work will remain. This is a  panoramic photograph of downtown Jackson during 1869. Chris and Lori Newcomb, father to senior Hayes Newcomb, can we thanked for this wonder piece of art. Dr. Lynn Miller, Visual Arts teacher at Prep, said on the subject, "To have someone who understands and can explain the historical significance of these pictures is a phenomenal learning opportunity for our students.  Mr. Woodrick shed light onto the past of our city, and it opened the eyes of our students to how important E. von Seutter pictures are."
After the lecture ended, head of school Dr. Jason Walton made an exciting announcement about construction for a darkroom in the art department. A darkroom is a room from which normal light is excluded, used for developing photographs. A generous donation by Dr. Jay and Stacy Underwood, parents of Greer and Jimmy Underwood, made this possible. Walton said, "The Jackson Prep Visual Arts Department desires to offer a fuller array of instruction in the areas of photography and imaging. Thanks to the generosity of the Underwoods, Prep will be able to construct a traditional darkroom that will enable student expression using analog methodology and will allow them the opportunity to learn and master the true craft associated with this 200-year-old medium."
The darkroom is expected to be done by February and will be immediately available to AP Photography students. Later in the year, other Art students will be given a chance to use this room.