Book Review: Tim Tebow scores again with "Shaken"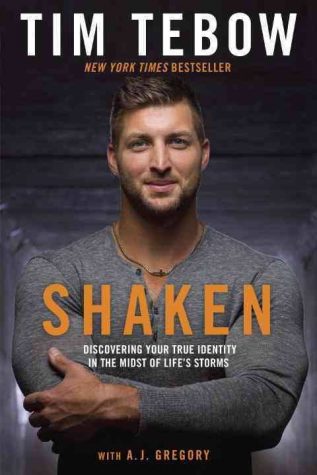 Tim Tebow's new book Shaken is about discovering yourself through life's toughest situations. In this book, Tebow speaks about his own life stories of how he made it through the hardest times with God right by his side. He encourages readers to live a life filled with Jesus and to know you are never alone.
One of the biggest topics in this book is that we all have a purpose for our lives. He speaks about the plan God has for our lives, and discovering what that is and how to live our lives not in what we think is our plan, but what God says our plan is. One of the best life stories he uses is a story about his church's mission trip in the Philippines. He was 15 at the time and was speaking to the people of a village. While he was speaking, he noticed three boys leave the building. He was curious as to why they left, and after he was done speaking, he saw one of the boys outside of a small hut. The young boy came over to him, grabbed his hand and led him into the hut. When he entered, Tim saw one of the young boys lying on a cot with his legs on backwards. He asked the three boys why they left, and Sherwin, (the boy with the disability) told him that his principal said they wanted to impress the Americans and that he was not impressive. Tim spoke to the three boys for a while until he was called to leave. Tim said to Sherwin, "I can't wait to see you in Heaven." Sherwin's response changed Tim's life forever. Sherwin said, "I can't wait to run with you in Heaven." After hearing this, it inspired Tim to start his foundation, the Tim Tebow Foundation, that helps people who need faith during the toughest times. He also noticed how Sherwin's friends never left his side. Even though they wanted to hear the foreign American speak, they stuck by Sherwin through everything and that is why we need friends that we can count on no matter what.
Another great story that is commonly known about as "The Tim Tebow John 3:16 story," is also a life changing event. While playing in college at the University of Florida, Tebow started a tradition of wearing the Bible verse Philippians 4:13 under his eyes. After the first game, he noticed tons of fans wearing the verse and he saw it in football stores everywhere. Before going into a playoff game while he was in the NFL with the Denver Broncos against the Pittsburgh Steelers, Tim felt God telling him to change the verse to John 3:16. Tim then went out and his team won the game. After the game, his coach got a call and told Tim that John 3:16 was Googled over 93 million times during the game. Tim was in shock. First, he thought, why do 93 million people not known the John 3:16? Then he realized that our God is a big God, and he can perform miracles through us that we might not even know about until we see the outcome. Three years later, one of his friends told Tim that during the game his passing yards were 316, his yards per completion were 31.6, time of possession was 31 minutes and 6 seconds, and the top search on Google was John 3:16. Tim realized the we are so small compared to God, yet he can still work through us in ways none of us can even imagine.
Overall, this book is an amazing read if you are interested in learning more about what God has in store for your life. It has even more incredible stories that you will have to read to fully understand how God can work through us and other people.