Food + Fun + Fundraising = Prep Fest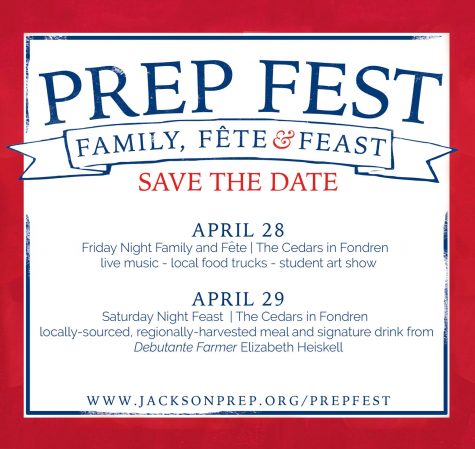 For years, Heart of the Home has been the premier fundraiser for Jackson Prep, but this year things are a little bit different.  Prep Fest is the PAT fundraiser this year and will be held on Friday April 28th and Saturday April 29th.  Prep Fest is going to be a two day event with the main events being the fête on Friday night and a feast on Saturday night.
A common question that has taken the Prep campus by storm is "what is a fête?" A fête, by definition, is an elaborate festival, party or celebration. In Britain, fête are traditional public festivals, held outdoors and organized to raise funds for a charity. They typically include entertainment and the sale of goods and refreshments.
The Prep fête will be held at The Cedars in Fondren and will include a student art show, food trucks and Prep singing groups, including The Pearl Divide from 8-9 o'clock.  All are welcome and the cost is five dollars per person.
Saturday night is the feast, which is a seated dinner for 250 people also at The Cedars in Fondren.  Prior to the feast there will be a sponsor party for all of the gracious contributors who helped make this event possible.
The featured chef is the "Debutante Farmer," Elizabeth Heiskell, who appeares regularly on the Today Show. The menu for the feast includes gumbo, pork loin, collard greens, quinoa, cornbread, bread pudding and strawberry cobbler.  All of the ingredients used are are locally grown and raised and the food will be prepared fresh that day.
There will be live entertainment by the Antoon brothers as well as featured artist Anne Seale, who will be painting the scene of the feast to be auctioned off after the dinner.  There will also be a $5000  drawdown with each ticket going for $100. The cost of a ticket for the entire evening is $150 and there are only a limited number of tickets left.
The Jackson Prep community is anticipating this year's fundraiser and the proceeds will go to the Patriot Club and back into the Prep classrooms.