Campus to be busy all summer long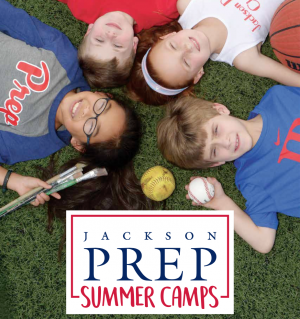 This summer Prep is offering a large variety of summer camps and opportunities on campusa, adding twenty-one new camps to the rotation for all grades. (More information is available at jacksonprep.org/camps.)
Prep is also expanding its variety of camps and splitting them into three categories: Study, Train, and Create. In the study category Prep is offering a wide range of new range of opportunities including the new Walk Through Japan camp led by Kazuaki Shiota. This camp allows kids in grades 10-12 to explore Japanese culture in a first hand experience by learning Japanese Folk songs, greetings, food, and culture.
Other camps in the Study category include Chess Camp, Kitchen Science for Big Kids, Searching for Treasures in the Old Testament, Manners and Etiquette for Middle Schoolers, Maker Camp, Babysitting Skills, and others.
In the Train category, Prep is offering the yearly Baseball camp run by the coaching staff, Softball Pitching Camp, Boys' and Girls' Basketball Camp, Football skills, Cheer and Pacer camp, Soccer, and others. Prep also offers its creative and artistic camps. This section of camps offers a recurring art camp, theater camps like Theater Tech Camp, Set Design Camp, and other camps that offer musical and dancing lessons.
Prep has also introduced a lot of camps directed towards young kids in grades 1-5. Some examples of these new additions for kids include Kitchen Science for Kids, Manners and Social Graces camp, and Bricks for Kidz LEGO: Bat League Heroes and Villains S.T.E.M. camp.
Other big events going on at Prep this summer are the Dance Unlimited Team coming to Prep on May 19th, the UMMC Nursing Pinning Ceremony in Fortenberry Theatre on May 25, and senior Gregor Patti's student-led summer play:  Death of a Salesman. This is the second year that Patti has led this event, after the success last year of his production Of Mice and Men. The play is being performed on Friday June 23rd @ 7pm and Saturday the 24th @ 2pm and 7pm. The thirteen person cast looks to surpass the already high standards of last year's play.