Inkheart: A New Classic (Book Review)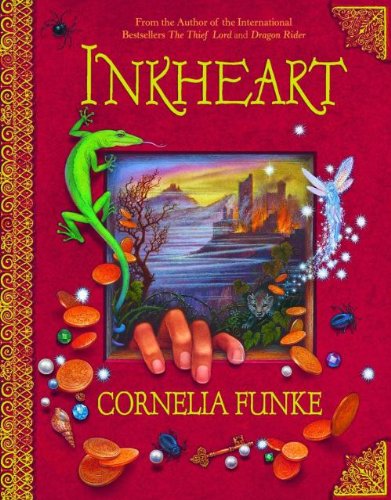 Although Inkheart was released in 2003, its popularity still stands even now. A movie based on the book was released in 2009. It was first released in German, but was quickly translated into English. Named as one of the Teachers' Top 100 Books for Children by the National Education Association in 2007, it has obviously been loved by all.  
The book is about Meggie, a 12 year old girl. One night, she meets a stranger named Dustfinger who knows her father, Mo, and speaks to him of strange lands she has never heard of. Shortly after, Mo is captured by a man named Capricorn along with his men, bringing a book called Inkheart. She, Dustfinger, and a lady named Elinor, who they were staying with, go to find him where Capricorn is. Meggie learns that her father is able to read people and things in and out of books, as he is forced to do it. The books follow Meggie and and her father Mo as they struggle with this skill and against Capricorn.
The book is part of the Inkheart trilogy, with Inkspell and Inkdeath following it. Inkspell, released in 2005, was named the 2006 Book Sense Book of the Year in the Children's Literature category, while Inkdeath, released in 2007, received less positive feedback. However, it does provide closure and answers for any fans of the first two books.
The movie, starring Eliza Bennett as Meggie and Brendan Fraser as Mo, was not as popular as the books were, recieving an average score of only 5.1 out of 10. It did not have quite the magic that the books did. While it was okay, it was nothing compared to the book.
Inkdeath is great for book lovers who understand what it is like to be carried away by a book. They can easily relate to the many booklovers in Inkheart and feel familiar as people are literally taken into a book. It is appropriate for all ages, but older readers will still be able to get swept up into it.