Staff releases JH literary magazine Mindprints to world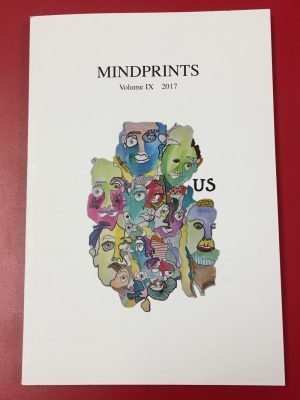 On Wednesday, August, 16,  the staff of Mindprints, Prep's award-winning junior high literary magazine, released their latest creation, Vol. IX, to the Prep community.
The book was given away on Patriot Avenue during activity period and homeroom. Members of the staff were joined by sponsor Ms. Kimberly Reedy.
The book, entitled Us, was put together by a small staff but featured entries from all across the junior high. Current sophomore Mary Noble Howard served as editor while the publication was finalized at the end of the 2016-2017 school year. The best part, said Howard, was "working with so many people to make such an amazing book." Formatting issues delayed the official release until after summer vacation.
Sponsor Ms. Reedy seemed proud of the publication, saying, "The best part about Mindprints is that it is made from the creative works of the 6th, 7th, 8th, and 9th graders." 
Staff member Michelle Daschbach, now in 10th grade, remembered, "I really liked getting to see all the artwork and the creativity people showed." 
The handsome book and all of the student content gives the staff of the 2017-2018 edition of Mindprints something to shoot for. Looking at Volume IX, current staff member Victoria Chough, a 9th-grader, said simply, "It's beautiful."