Football Preview Week 4 (Homecoming!) – Pillow
Jackson, MS. — Jackson Prep looks to continue their winning ways this week as they host the Mustangs of Pillow Academy for Homecoming. The Patriots already look to be in midseason form and the season is just now reaching week four. Prep is coming off an impressive week three road win (14-3) at 3A public school Forest High School. This win moved the Patriots to #1 in the MAIS AAAA rankings and #4 in the Mississippi Gridiron Little 10.
Pillow comes into the game at 1-2 with losses to Indianola and MRA. The Mustangs got their lone win 27-13 last week at home to Bayou Academy out of Cleveland, MS.
Game Overview: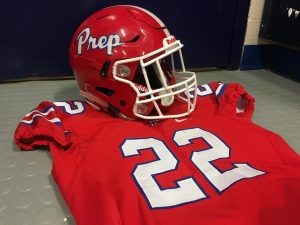 Time: 7 pm, Friday, September 8th
Location: Patriot Field, Flowood, Mississippi
Records: Jackson Prep (3-0)  Pillow Academy (1-2)
Players/Matchups to Watch:
Prep's Defense versus Pillow's Offense:
The Patriots defense had an impressive outing last week holding an explosive Forest Bearcat offense to only a field goal all game. Prep so far on the year has only allowed 17 points through three games, and each week it seems as if the Patriots have thrown different schemes at opposing offenses that they haven't seemed to be able to figure out. For the Mustangs to have a chance in this game they will have to score on the Patriots defense which is a test that not many schools have been able to do so far.