Kelly's Album of the Week: The Lonesome Crowded West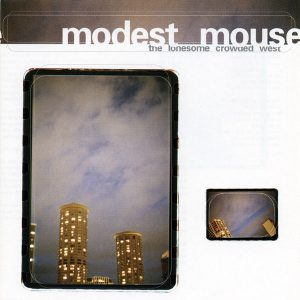 The Lonesome Crowded West by Modest Mouse is album that combines the emotion of the grunge movement with the originality of their songwriting, singing, and music composition. The album was released in 1996 and was the second album that Modest Mouse released. Lead singer/songwriter, Isaac Brock, has lyrics about his past experiences, stories with interesting ideals, and lovers.
The Lonesome Crowded West starts with the track "Teeth Like God's Shoeshine," which begins with classic grunge vocals and distorted guitar parts. The song, along with many other Modest Mouse songs, goes through a series of slower parts with nice melodies and builds back into more high energy, high volume parts. The second track on the album is "Heart Cooks Brain," which incorporates the sounds of turntables, a steady drum beat, and tantalizing lyrics like "In this place that I call home, my brain's the cliff and my heart's the bitter buffalo." The happy chord progressions in "Lounge(Closing Time)" and acoustic parts in "Bankrupt On Selling" and "Styrofoam Boots/It's All Nice On Ice, Alright" give nice versatility to the album's feelings.
Like most great albums, The Lonesome Crowded West has elements that make it unique. It may be Isaac Brock's whammy bar dissonance, the complex drum beats, or the unmistakable vocals, but the album has a personality that separates it from others. The drum beats in the album use a lot of high-hat/tom combinations that I love, especially in the song "Trucker's Atlas." My favorite lyrics from this album are in the song "Styrofoam Boots/It's All Nice On Ice, Alright" because it introduces an interesting way to think about divine interaction.
Modest Mouse has been especially acclaimed for their hit "Float On," but they have much more music that deserves a lot of credit. The Lonesome Crowded West has been on repeat for me lately, so be sure and give it a listen.
About the author: As an avid listener of music, guitar player, singer, and band member, I thought it might be fun to give my two cents about music I enjoy. I'm a fan of most genres, but really I just want to hear music with some artistic merit. I hope to get people to listen to music they haven't heard and see if they like it. Also, feel free to suggest any music for me to listen to.