Prep swats the Yellow Jackets 42-7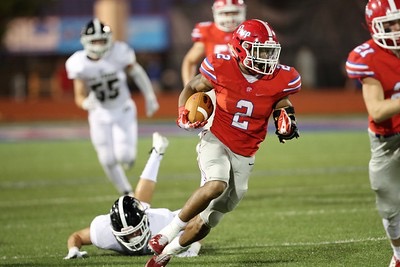 Flowood, MS — On Friday, October 5, the Patriots hosted the Oak Forest Yellowjackets for Prep's homecoming. Both teams played well, but in the end the Patriots topped the Yellowjackets 42-7. This came after the Patriots put up 28 points in the first half, and held Oak Forest scoreless till late in the third quarter.
It was a solid night for the Patriots defense, which had multiple drive stops and forced turnovers, including a scoop and score play by Holmes Maley that was initiated by a hit from Adam Norsworthy. The defense also delivered in the form of an interception, this time from senior corner Carter Stockett.
On offense, the Patriots delivered in the form of constant points. Aided by senior runningback Jerrion Ealy and his 133 yards of total offense and three touchdowns, the offense consistently drove the ball down the field, putting up 35 of the 42 points scored by the Patriots.
The Patriots are in the middle of conference play, and with only three games left in the regular season, it is an all-out battle for the #1 spot and first-round bye-week going into the playoffs.
This week, the team travels to Ridgeland to take on the MRA Patriots. Both teams are undefeated and fighting for the top spot in the MAIS. Everyone's support is needed, so come out and be loud. Game Friday, October 12 @7.