Juniors celebrate "The Princess Bride" with festival
Ms. Anna Griffin's eleventh grade AP English class put on a film festival on Wednesday, November 28, to showcase their summer reading book, The Princess Bride by William Goldman.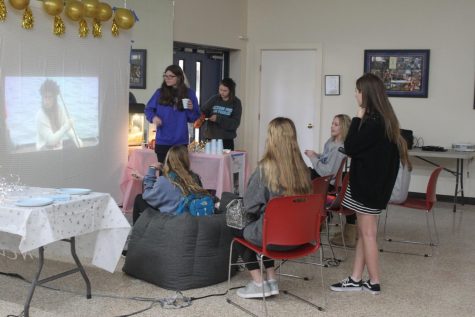 Last year, Ms. Griffin's classes covered the play The Crucible by Arthur Miller. The classes this year have been collectively working on this project for eleven weeks. The film festival was open during second carrier through fourth carrier for the school to come to enjoy what the groups created.
Each group had an option of shooting a short film based on role reversal, reality television, Vizzini's backstory, or the bad parts.  Mary Noble Howard is the film festival coordinator which means she organized the logistics like finding projectors and setting up for the event. She was supported by a committee which had a member from each group. Mary Noble found the technological aspect the most challenging part of her job.
For example, one group produced a reality television show called "The Princess Guy." Alex Stradinger played the role of Princess Buttercup, which the audience found very amusing. Another group member Miriam Cochran said, "The most memorable part of this project was when Alex accidentally tipped the canoe, making Kate Oliver, Leigh Hardin, and me fall into the freezing cold lake."
The objective of the film festival was to distinguish the difference between innovative and imitative. Each group showcased great creativity. Overall, the film festival was a success because each group provided snacks and an interesting take on The Princess Bride.