Justice Sonia Sotomayor speaks to students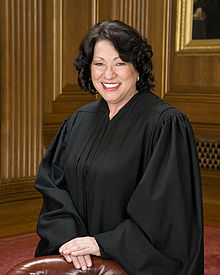 Prep's AP and Honors English and History students in grades 10-12 were invited, along with students from other schools in the area, to listen to sitting Supreme Court Justice Sonia Sotomayor at Galloway United Methodist Church in downtown Jackson on August 16th. Sotomayor was in town for the Mississippi Book Festival the following day and wanted to talk to students in the area.
Justice Sotomayor graduated summa cum laude from Princeton University in 1976 and later attended Yale law school. In 1992, Sotomayor was appointed as a federal judge in the Southern District Court of New York by the late President George H. W. Bush. She was appointed as an Associate Justice of the Supreme Court by former President Barack Obama in May 2009 and was confirmed in August of the same year. This made her the first Hispanic and the third woman to serve on the Supreme Court. Her most notable cases as a Justice include Obamacare and same sex marriage. While serving as a Justice, she has written 4 books. Her latest book, Just Ask! Be Different, Be Brave, Be You—about how everyone is different and these differences make us special—came out on September 3rd.
Sotomayor's speech was about how she got to where she is in life. She talked about how education was the key to success and how one should always work for a dream because it makes them a better person.  After her speech, Justice Sotomayor answered questions from the students. When asked what allowed her to continue to enjoy her job, she replied that it was getting to meet kids around the United States and building her legacy by influencing them so that they could one day change the world.  More specifically, she hopes that the kids will fix the partisan gridlock in the government in order to improve the United States. 
After she answered several questions, she gave every student one of her books that she had personally signed. The event's organizer, Ms. Holly Lange, said, "It is an honor to have a sitting supreme court justice visit the Mississippi Book Festival," and she hoped that the students would attend the Book Festival on August 17th.