Night of Knights: Homecoming '19
Homecoming week is one of the most highly anticipated times of the year at Jackson Prep, and 2019 was no exception. Jackson Prep's students traveled back to the medieval times for this year's homecoming theme, and school spirit was at an all time high as the homecoming game drew closer.
The week consisted of five themes that the students could dress up for each day. It began with "Meme Monday," which was different from any theme done in the past. The next day was Hawaiian day, acting as a final farewell to summer. Wednesday was generations day in which the sophomores dressed as babies, the juniors dressed as adults, and the seniors as senior citizens.
On Thursday and Friday students celebrated the overall theme of homecoming, dressing in medieval costumes on Thursday and then wearing their homecoming T-shirts on Friday. The dress up days gave students a relaxed feel for the week, getting them excited for the football game and the dance.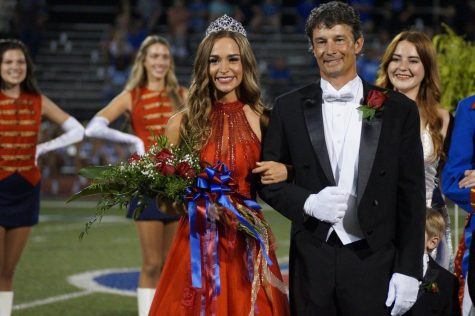 The homecoming game was a Jackson Prep victory over Adams County Christian School. The Patriots crushed the Rebels with a score of 37-0. The win set the tone for an exciting night to come.
At halftime, the homecoming court was presented, and Sara Hederman was crowned Homecoming queen. Representing the sophomore class was Maggie Boswell and Elena Zoubukous. The juniors on the court were Abbey Mangum, Eliza Mazzaferro, and Aubrey Scott Moak. Proudly representing the senior class were maids Mary Virginia Baldwin, Sara Hederman, El Knotts, and Andrea McCaa. These girls were presented twice, once at the pep rally, escorted by classmates, and again at the game, escorted by their fathers. The 2018 homecoming queen, Maggie Waller, returned to crown Sara Hederman.
Following the football game, students made a quick turn around and headed to Patriot Avenue where a live band, s'mores, and chicken nuggets awaited them. The student council put much preparation into the dance, and it paid off.