Patriots trounce Taylorsville 28-0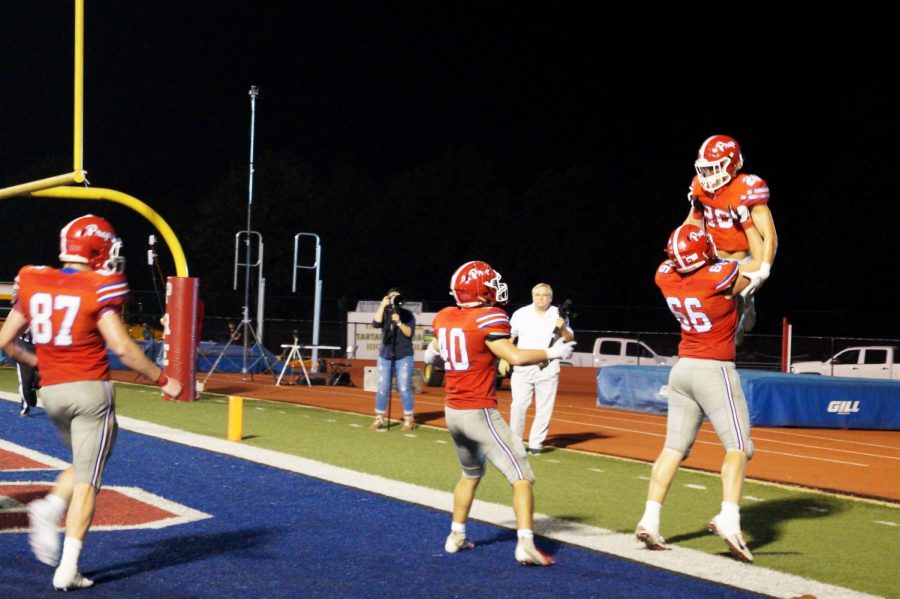 The Jackson Prep football team played like they had something to prove. On Friday, September 27, the Patriots faced the mighty Taylorsville Tartars at home. The week prior to the game was filled with skepticism about whether or not they could defeat the Tartars. As predictions piled up, most of which generously favored Taylorsville, the Patriots quietly prepared to stop their opponent's outstanding passing attack. A particular source claimed that quarterback Ty Keyes and the Tartar's passing offense would march the ball up and down the field against the Prep defense, boldly stating that this was Flowood's worst team in recent memory. Yet, in true Prep fashion, the red and blue emerged when it mattered most: Friday night.
The Patriots started off the game with their first offensive possession. Unfortunately, an interception derailed what looked to be a promising drive. With the ball now in Taylorsville's hands, the Prep defense looked to be at a clear disadvantage. Yet, thanks to several dropped passes from the Tartars typically consistent receivers, the Patriots forced a punt. The rest of the first half progressed much the same way, with neither team being able to sustain a consistent drive. The lone score of the first two quarters came from a 20-yard completion from Riley Maddox to Matt Jones.
Taylorsville started with the ball in the second half, yet Keyes and his surrounding cast were unable to gather any momentum. Soon after another punt from Taylorsville, Matt Jones scampered 42 yards to the endzone to give the Patriots a 14-0 lead. Jones and his fellow running back, Seth Cook, tacked on the final two touchdowns of the evening, sealing the Tartars' fate with a final score of 28-0.
In retrospect, Prep's outstanding performance is their brightest moment so far this year. The team showed that they could defeat bigger and often faster opponents. With a combination of execution, toughness, and understanding, the Patriots proved their doubters wrong with their convincing effort. Prior to Friday night, Taylorsville had not been shut out since 2004, an impressive 15-year streak. By shutting out one of Mississippi's premier offenses, Prep has created sufficient momentum entering the meat of conference play.
The Patriots will hope to build on their success this Friday against rival Jackson Academy. In the meantime, make sure to vote Matt Jones for the Blitz16 Player of the Week to show your appreciation for his outstanding performance against Taylorsville.
Show up in Sheffield on Friday, October 4, as the Patriots hope to extend their string of wins in Mississippi's premier cross-town rivalry.