A day in the life of a news anchor at WLBT
Tucked away on the corner of Jefferson Street lies the WLBT news station.  WLBT has broadcast to Mississippi since 1953 and is one of the most popular news stations in the state.  WLBT's team of reporters works around the clock to update locals on what is going on.  One of WLBT's dedicated reporters is Wilson Stribling.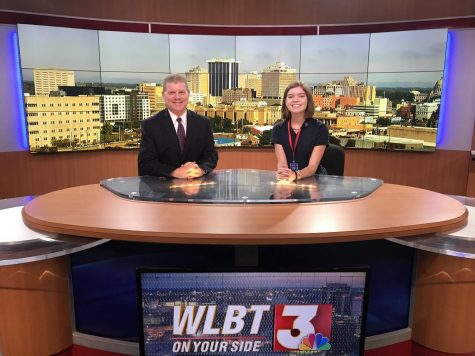 A born-and-raised Mississippian, Wilson Stribling has been a part of the WLBT news team for 22 years and discovered his love for broadcasting in college.  He attended SMU and halfway through transferred to Ole Miss while majoring in business. 
Wilson commented, "It was at Ole Miss during the summer, where I got involved in television. They were having tryouts for the campus TV station for news anchors, and I always thought I was halfway interested in that kind of thing for some reason, so I tried out.  They told me I could come do the the news two days a week, and I thought I had struck it rich."
The opportunity opened up news anchor jobs for Stribling in Sherman, Texas, and Youngstown, Ohio, until he came back home and got his MBA at Millsaps to pursue a career in business.  During that time, Wilson worked as a free-lance reporter for WLBT but became a morning news anchor once he was offered a full-time job there.  "Something about communication has always fascinated me, I like the ability to communicate, whether its news, an idea, or argument from one person to another or a group of people."
"
There is no normal day in the station. Every day is different. "
— Wilson Stribling
The job never gets old, as you can catch Wilson as a news anchor from 5:00 to 9:00 in the morning. He is also known for contributing to the recurring news segment, Flashback Friday, which reflects on significant events that happened in Mississippi.  After broadcasting, the team has daily meetings to discuss ideas for news coverage the next day, as no day is ever the same. 
Stribling's input was, "There is no normal day in the station. Every day is different.  This is one occupation, where you don't know from day to day exactly what your next day is going to entail.  That's sort of true with any job, but with this one you leave at the end of the day all of your stories that you did for that day are done and tomorrow is a clean slate. The nature of this job is to be ready for anything because we don't know what's going to happen, but we have to stand ready to report whatever occurs when it does."
If you ever want to pursue a career as a TV news anchor you have to get comfortable with the idea of public speaking.  The job varies from reporting live on air or discussing with citizens, so you have to be able to adapt to any situation.  Hours can run early for news anchors, as Stribling wakes up at 3:15 A.M. to get a jump start on the day.  Another important factor is writing.  Some of  Wilson's best advice is, "You can't compose a thought on the air unless you have a strong foundation in writing."  
Anyone who has considered a career in television would benefit greatly by applying for the internships WLBT has to offer during the summer.  You would have the opportunity to learn and experience the job firsthand by seeing how a news station runs.