Powder Puff: Seniors go out on top
As the football season came to a close, it was time for the annual powder puff game on December 2nd. The first game of the night was the sophomores vs the juniors. The sophomores wore blue, while the juniors wore black. Starting at quarterback for the sophomores was Julia Stradinger, while Olivia Sasser was the junior quarterback. The sophomores were led by coaches Trey Bridges, Ben Futvoye, Sam McMullan, Louie Gatlin, and Jagger Mooneyham. The coaches for the juniors were Jeffrey Ince, Riley Maddox, Thaxton Berch, Matt Jones, and Josh Oden.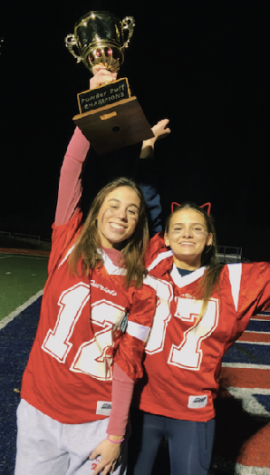 After a fast start, the juniors had the lead going into half. However, the sophomores made a comeback and ended up winning. The juniors lost last year, so they have yet to make the championship. Junior coach Jeffrey Ince reflected on the game saying, "We played hard, but the execution wasn't there. We had open passes but way too many dropped balls. Also, our defense could not cover their girls and gave up too many big plays. We will come back stronger next year so watch out."
The sophomores moved on to the championship where they would face the seniors, who were led by quarterback Price Loposer. The sophomores didn't stand a chance. A brutal beat down of 42-13 continued the seniors winning streak. After winning both their sophomore and junior years, senior year did not disappoint. Senior coaches included: Andrew Purvis, Holmes Maley, JC Polk, Peyton Dunn, and Alex Stradinger. Peyton Dunn had some thoughts on what made them so successful saying, "The key is to just let your girls play. You have no preparation but just let them go out there and compete." Next year's game can't come soon enough.