Prep students help serve the community through a catered dinner
On Wednesday, April 29, Joni and Friends, a local Christian organization that helps people with disabilities, hosted an event for families that helped both the community and businesses. People were able to drive outside of the Joni and Friends office and purchase meals from Penn's, which were assembled on-site in boxes by volunteers.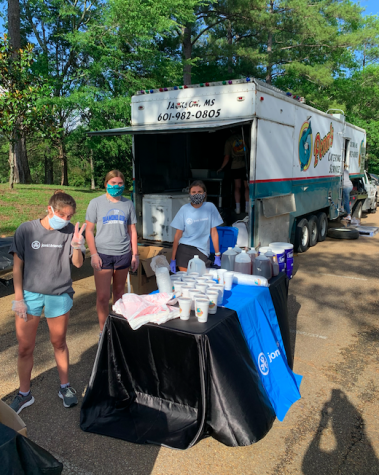 This event was held with the help of Ms. Headley's service learning class and other Prep volunteers as well as the Joni and Friends staff. There were an estimated 100 customers who were served at this event.
The customers were given a choice of chicken, catfish, or chicken on a stick, and they were given sides to go with their entree. Hush puppies, fries, and coleslaw were offered in this box for twelve dollars.
Eli Venarske, a junior in the service learning class who attended the event, said "it was a great opportunity to get out of the house and serve. It also allowed me to see friends that I have not been able to see since before Spring Break."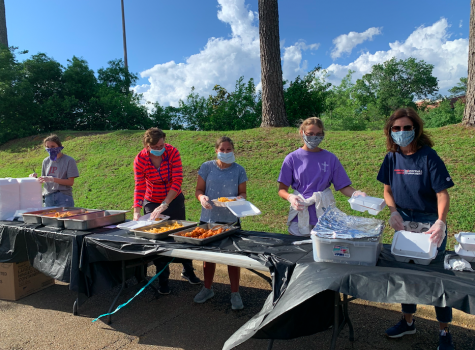 Sarah Herring, another junior in the service learning class who worked at the drive-through, said that "it was so refreshing to get out of the house and do something beneficial for the community. It is uplifting to know that we can still come together and serve as a community in the midst of everything that is going on."
Students publicized the event through posting advertisements on their social media accounts. A large majority of the crowd that participated in the event used this as an opportunity to get dinner for their family. 
This was a large way that Prep students have been able to serve the community during this pandemic. The volunteers were able to safely serve by using masks and gloves.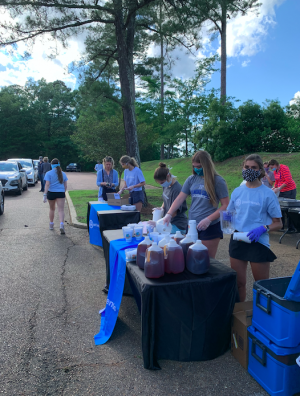 This is only one way that the service learning class has been able to help during the pandemic. Ms. Headley has encouraged her students to serve in several different ways, such as writing letters of encouragement or serving their family while at home. This event has allowed students to serve a large group of people in a safe way, which is an amazing opportunity during this time.