Patriot-on-Patriot brawl: MRA beats Prep 50-24
On the sixteenth, the Jackson Prep Patriot Football loaded onto buses and headed to Madison-Ridgeland Academy to take on an all-too-familiar opponent. The dueling Patriots have established quite the rivalry with both teams consistently fighting near the top of the MAIS pile. MRA stood victorious in both the regular season and championship game last year, so Prep was expected to enter the game with a noticeably large chip upon their shoulder pads.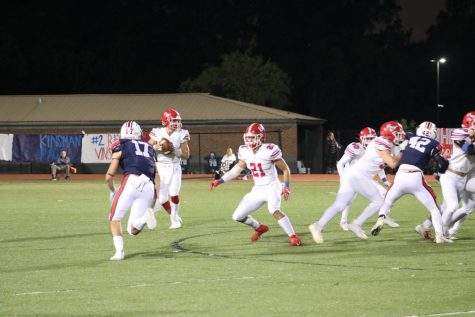 The 7:00 kickoff on Old Canton Road was welcomed by the first cool night of October, setting the scene for a memorable night of football. Prep's offense had the first possession, pushing the ball up the field with relative ease. Quarterback Riley Maddox and receiver Thaxton Berch set up Jeffery Ince's goal-line touchdown run with a leaping fade along the visiting sideline. However, something seemed to be missing in Prep's attack. Number 5, Matt Jones, paced along the sidelines with a taped cleat, leaving a noticeably different product on the field. Jackson Prep's excited stands were soon smothered out by MRA's well-developed offensive attack, which landed a lick of their own with a long rushing touchdown. Maddox and the offense again marched down the field, setting up a field goal from Louie Gatlin. The 10-7 lead was Prep's largest of the night.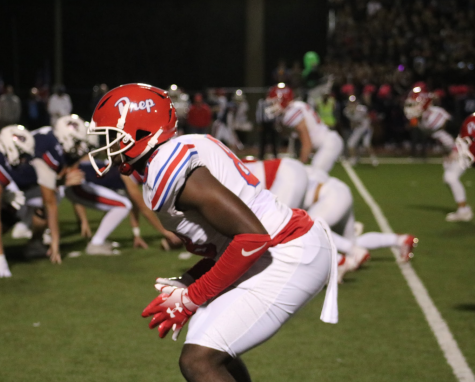 Soon, MRA's offense took flight, snatching all the momentum away from the visiting team. The first half ended at a score of 34-10, and Coach Black's squad headed back to the locker room to plot for a comeback.
However, this comeback was only seen in short sparks, the full flame possibly hidden with Matt Jones on the sidelines. Regardless of injuries, players like Thaxton Berch and Jeffery Ince picked up part of the slack, both catching touchdown passes in the second half. The visiting Patriots were unable to mount a consistent comeback, falling short of their crosstown rivals 50-24.
You can see the Patriots in action this Friday versus Parklane. The homecoming court will be presented and Prep will look to bounce back against the Pioneers.