JCL learns about graffiti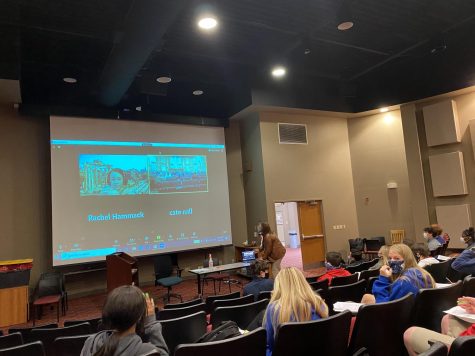 The Junior Classical League kicked off their first meeting of the year on November 5th by having a guest speaker talk . The session was given by Dr. Jacqueline DiBasie-Sammons, who is a professor for the University of Mississippi in the Department of Classics. Dr. DiBasie-Sammons met with the Latin students during break via Zoom to discuss the history behind ancient graffiti.
Graffiti wasn't illegal for the Greeks and Romans, instead it was a form of art. People would make marks on wall plaster all over the city, and the most common forms of graffiti were numerals, greetings, names, storytelling, and poetry. The students jotted down notes on the packet given and even got to test out their graffiti skills by writing phrases and drawing out on paper.
Latin teacher Ms. Beth Watts was excited by the turnout of students and thought the seminar was a fun experience. "I thought it was a fascinating, interesting session. She was able to bring knowledge of the classics profession to our students. My goal was to expose students to professionals in the classics world and this meeting was a good intro into that."
Sophomore Latin II student Gracie Atkinson said, "I really liked the examples she showed where people would write their names in the shapes of pictures. I also liked having the different types of letters so you could write different variations of your name."